If You're Looking to Relocate And Sell Your Bay Area Home
Without Working with a Realtor...
You've Come to the Right Place!
If You're Relocating, We Can Buy Your Bay Area House ASAP!
We Work With Homeowners Directly to Buy Their Bay Area Homes To Help Them With Their Move.
You Don't Need to Repair Anything

or Have Any Walkthroughs! There Are

Zero Obligations

with Our Cash Offer!
Moving will always be stressful. From making sure you have everything packed and ready, and the selling of your home. If you're close to your old home and you have time, working with a realtor isn't that bad. But if you're on a timeline, and your home has damages, we recommend that you work with an all-cash home buyer like us.
If You're Moving Soon, We Can Buy Your Bay Area Home Now!
We're here to work upfront with you, and deliver to you cold, hard cash for your Bay Area home. We know it's hard to relocate, and the lengthy timelines that realtors give you for selling your home won't necessarily fit within your schedule. We make it easy on homeowners by buying their homes directly from them, with no commissions added.
Do not worry about your home's condition if you're relocating - we can still buy it. Even if:
We're An Alternative Solution to Real Estate Agents
Simply get an offer from us, it's completely free! Do this before you commit to a long-term contract with an agent.
As the most committed team of homebuyers in the Bay Area, we believe that your time is the most valuable, and we'll be able to make an offer for your home in less than 48 hours. All of our services are 100% free - you have all the knowledge to gain with no stress at all!
Helping Families Sell Their Homes!
If you don't know it yet, selling a home will always be stressful. With relocating to a new home, that newfound stress will suddenly arrive, and you may not know how to deal with it. From dealing with buyers to fixing up the property to making sure that the paperwork is taken care of, there are a lot of things that will stress you out.

You don't have to worry about a single thing regarding walkthroughs or inspections. Heck, you don't have to repair your Bay Area home to sell it to us either.

My name is Eugene Romberg, but you can call me friend. I'm here to help you and your family and beat expectations.

Need to Sell Your Bay Area Home Quickly Before You Relocate?
If you or a spouse need to leave and relocate quickly, we can buy your home in less than two weeks if needed. Since we have our own money, we don't need to rely on banks, lenders, or any other third party. By coming from a place of aplenty, we can buy Bay Area homes quickly and easily. We can create a large cash offer within the first 48 hours after our visit.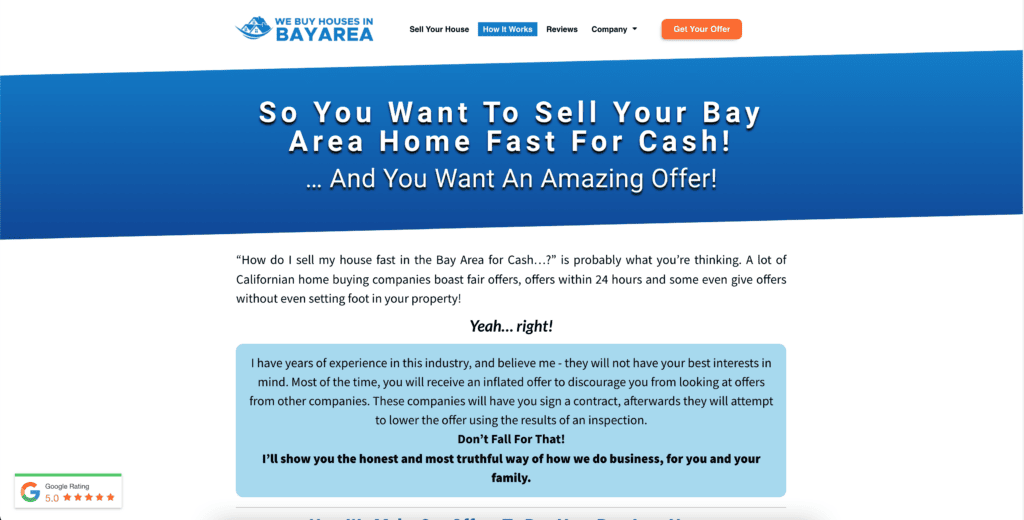 It's all about information. Please let us know about your home with late mortgage payments and what the current situation is with the form above or below us. From there, me or my team will contact you.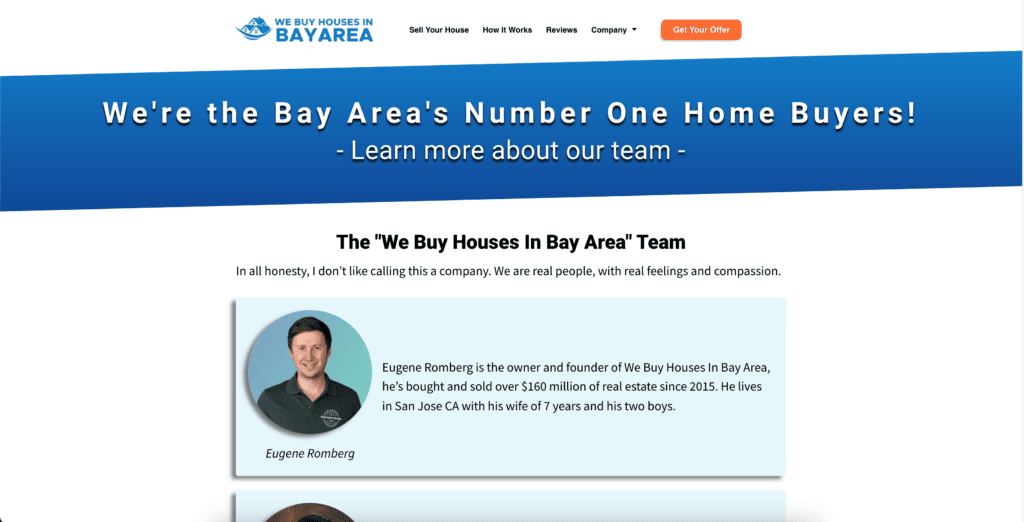 If you're curious about my team and me, take a gander at our biographies above!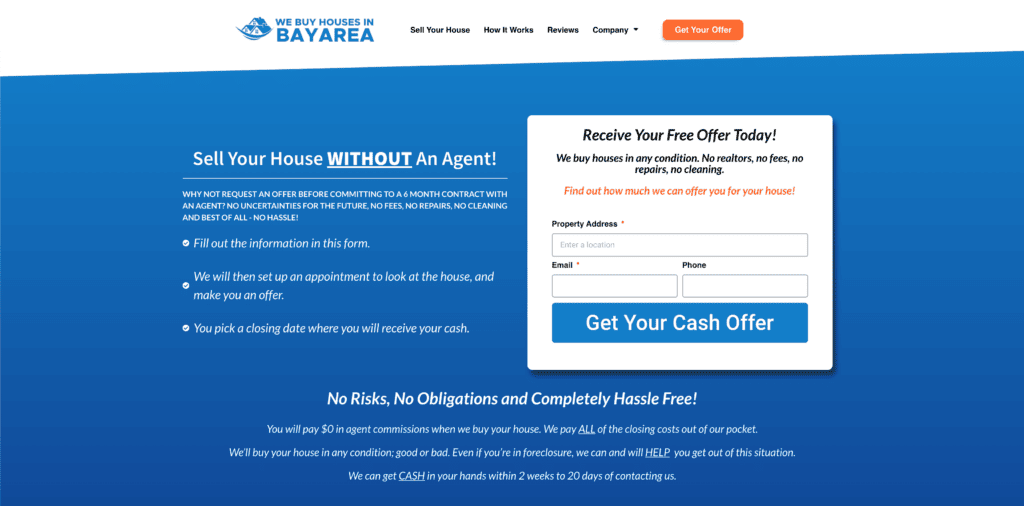 We want to help the community in any way we can. That's why I have made a couple of videos (like the one above) to show you what we do, and how we conduct business.
"We had to move my parents out of our childhood home. The hardest part was saying goodbye to the old thing, but it definitely needed some TLC. We just wanted the cash from the home, without fixing it. Eugene got us the money, and our parents are better off and in a better, closer home now."
~ And Don't Worry… My Team And I Got You Covered!
You Can Learn About How Much We Will Pay For Your Home Before You Relocate!
The best way to make sure that you can sell your house before you relocate is by working with us. We can make the best offer for your Bay Area home, while you can relax and focus on moving from one place to another.
Become Stress-Free By Letting Us Make An Offer On Your Bay Area Home
After our walkthrough or virtual walkthrough, we will access your home's After Repair Value to create an offer for your home.
No renovations or repairs are needed. We'll buy your house in its current condition.


If you want to know how much we'll offer for your home - look below!
We Can Buy Your Bay Area Home While You Move!
We all know that relocating and moving can be tough. So that's why we have created a solution that makes it easy for homeowners like yourself, to sell your Bay Area home quickly for cash. Even if you're not moving, we can help you - no matter your situation. It costs you nothing but a little time to reach out for an offer, and you have all to gain!

The best experiences from a service come with a side of honesty and transparency. We want to deliver both things to you while making sure that you're comfortable during the entire process. By working alongside us, we can create you a great cash offer, all while being able to work on your home immediately, so you can move on and be worry free!
We make sure that everything is put on the table when we make an offer for your home. This way, you can see every little detail that goes into our process, and how we deliver on our promise. No surprises, no fees or commissions, just a great sum of cash for your home!
We'll Handle The Cleaning, You Can Relax
If you're embarrassed about the condition of the inside of your home - don't worry about it. We're here to help in any way that we can, and we'll clean everything up for you. When you begin the moving process, simply take what you want or need, and leave everything else for us!

If you're in the process of moving or you're about to relocate, reach out to us first before you make a decision on how you're going to sell your home. We're not here to pass any judgments, all we want to do is give you a great all-cash offer for your Bay Area home! Even if you aren't moving or relocating, no matter what situation you're currently in - we can still help. I guarantee that my team and I will go above and beyond your expectations.
The Best and Fastest Way To Sell Your Bay Area Home!
We've seen our fair share of homeowners who weren't able to sell their Bay Area houses because of one problem or another. It happens a lot more than you think. Traditional home selling works for some homes, but for older, damaged homes - you have to squeeze harder for less juice. Let us write you a great offer for your home, and let us buy it as it stands currently today!
We have bought homes from all over the Bay Area from homeowners just like you. We have bought houses in all cash in San Jose, CA and we have purchased properties in San Francisco, CA, to name a few.
It doesn't matter where in the Bay Area you have a house for sale. Whether you want cash for your house in Palo Alto, CA or if you want a cash offer for your home in Richmond, CA we will purchase it!
Your Offer Has ZERO Obligations!
The Number #1 Real Estate Investing Company
Creating cash offers for Bay Area homes is what my team and I specialize in. If you're curious to see how much we will pay for your house - fill out our form above or contact me directly. Thank you!