We're the Bay Area's Number One Home Buyers!
- Learn more about our team -
The "We Buy Houses In Bay Area" Team
In all honesty, I don't like calling this a company. We are real people, with real feelings and compassion.
Eugene Romberg is the owner and founder of We Buy Houses In Bay Area, he's bought and sold over $160 million of real estate since 2015. He lives in San Jose CA with his wife of 7 years and his two boys.
Ray Haikin is the co-owner of We Buy Houses In Bay Area. He has taken part in 50 real estate transaction in the last 4 years. He specializes in remodeling, redevelopment, and marketing. Ray currently resides in Fremont with his wife and kids.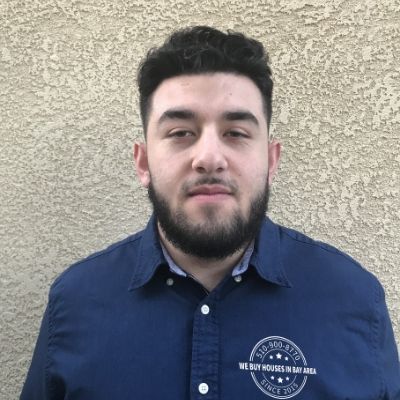 Joseph Mathews is the head of transaction coordination and dispositions for the company and has extensive experience in real estate. Joseph loves helping people solve difficult problems. Joseph loves to play soccer and spend time with his family.
Shanti Thomas is the senior escrow officer at North American Title Company 21060 Redwood Road. She has been an escrow officer for over 32 years and loves what she does. She is dedicated to make the buying and selling of real estate a seamless process.
We are Cash Home Buyers in the Bay Area of California! We rehab and flip houses in the Bay Area of California. We buy houses in the Bay Area from people that no longer want to own it for any reason. We know it is important to give you a great and fair offer, and that is taken very seriously with us. We are not here to take advantage of anyone or waste their time, and we see it as ethically appalling to make an offer based on how desperate you may or may not be able to sell. Each individual in my team believes that being upfront, genuinely honest and transparent will make life fulfilling and happy. These are the core values I have built my team and myself upon!
We promise to be fair, honest and do whatever it takes to come to a win-win transaction.
We do not take advantage of others, we firmly believe that a person in distress needs someone that can help - and you can count on us to be there for you, on your side to the end. We do our best to genuinely be the solution to all of your real estate hardships. Give us a try - you will see how we always manage to exceed expectations.
Receive Your Free Offer Today!
We buy houses in any condition. No realtors, no fees, no repairs, no cleaning.


Find out how much we can offer you for your house!