We're the Bay Area's Number One Home Buyers!
- Learn more about our team -
The "We Buy Houses In Bay Area" Team
In all honesty, I don't like calling this a company. We are real people, with real feelings and compassion.
Eugene Romberg is the owner and founder of We Buy Houses In Bay Area, he's bought and sold over $160 million of real estate since 2015. He lives in San Jose CA with his wife of 7 years and his two boys.
Ray Haikin is the co-owner of We Buy Houses In Bay Area. He has taken part in 50 real estate transaction in the last 4 years. He specializes in remodeling, redevelopment, and marketing. Ray currently resides in Fremont with his wife and kids.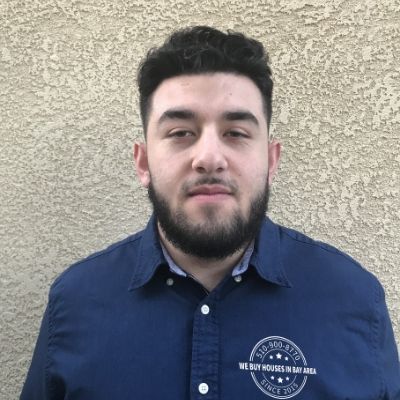 Joseph Mathews is the head of transaction coordination and dispositions for the company and has extensive experience in real estate. Joseph loves helping people solve difficult problems. Joseph loves to play soccer and spend time with his family.
Shanti Thomas is the senior escrow officer at North American Title Company 21060 Redwood Road. She has been an escrow officer for over 32 years and loves what she does. She is dedicated to make the buying and selling of real estate a seamless process.
We are Cash Home Buyers in the Bay Area of California! We rehab and flip houses in the Bay Area of California. We buy houses in the Bay Area from people that no longer want to own it for any reason. We know it is important to give you a great and fair offer, and that is taken very seriously with us. We are not here to take advantage of anyone or waste their time, and we see it as ethically appalling to make an offer based on how desperate you may or may not be able to sell. Each individual in my team believes that being upfront, genuinely honest and transparent will make life fulfilling and happy. These are the core values I have built my team and myself upon!
We promise to be fair, honest and do whatever it takes to come to a win-win transaction.
We do not take advantage of others, we firmly believe that a person in distress needs someone that can help - and you can count on us to be there for you, on your side to the end. We do our best to genuinely be the solution to all of your real estate hardships. Give us a try - you will see how we always manage to exceed expectations.
Receive Your Free Offer Today!
We buy houses in any condition. No realtors, no fees, no repairs, no cleaning.


Find out how much we can offer you for your house!
Eugene reached out to me recently and I started working with him. He's so smart, and knows a lot about real estate. He was extremely communicative, and wanted to make sure I was in the loop for everything. It helps to have someone tech savvy in this day and age as well. Everything was communicated online and via phone, like how I wanted.
Eugene and his team created an amazing experience for me and my family. He was totally honest and made sure we understood every step of his process. I am more than thankful to work with him to sell my Bay Area home.
I had probably the easiest time selling my home with Eugene and company. Eugene came to my home and did a thorough walkthrough of the entire place and showed us how he got to his offering price. I loved how he managed to make us feel at ease while making sure that every detail was covered and that he answer all of our questions in a very easy manner. It was a great time for me and my family. Thank you so much Eugene!
Eugene was a pleasure to work with during this stressful process. He was very clear on home value and what could be offered. While I did not complete the sale with Eugene due to other circumstances, the whole process was seamless and easy. I would highly recommend Eugene for anyone considering selling their home as is or in need of a quick move.
I recently called Eugene We Buy Houses in Bay Area and spoke to him for the sale of my home. It went very smoothly and the whole process took a little over 7 days but it was so worth it!! He was a big help and now i have some cash in my pocket to start my life over. Thanks E!!!
Professional and hardworking, Eugene answered all of our questions without pause, and explained to us every detail of what he was doing. The process was a walkthrough, an offer, and then signing of the paperwork. We were done before we knew it, and now I have extra cash for my ventures. Eugene is great! Thank you!
Like many customers, I don't really leave reviews. If I enjoyed their service, I'll keep that in mind when I refer them to friends or other people I know. Eugene and his team really exceeded my expectations. They broke down what it took to sell my Bay Area house quickly and made me a deal I was beyond comfortable with when it came to moving to another location. I would highly recommend Eugene and his team for anyone or their family when looking for a great cash deal for their home.
Super quick and reliable. Eugene made the entire process painless and super easy for my parents and I. we got our cash and managed to find a new home soon. It was awesome that they cleaned up the home too.
I was very impressed with the work that Eugene did for my home. He isn't pushy and I actually liked how he educated me through the whole process. Unlike other home buyers, Eugene actually wants you to talk to a realtor and have multiple options ready. I was 100% percent comfortable with working with him.
Whenever I refer clients to Eugene of We Buy Houses in the Bay Area they always give me a call after working with him and they always have something positive to say. I can see how hard he works to make sure that his clients are completely satisfied. He has helped so many people escape some terrible situations and they love him for it. I will continue to work alongside him and make sure to send clients his way within the Bay Area, it is the least that he deserves 🙂
We inherited a property from our grandmother back in march and we didn't know what to do with it. She was a hoarder so there was a bunch of junk laying around. Myh sister and i both live pretty busy lives so we decided to sell the home to We Buy Houses in Bay Area. They helped us every step of the way, and we didn't even need to clean up the home. They did everything and let us relax. I would highly recommend !
We had a very old home that needed a whole lot of repairs. My children are flown out of the nest and now we didn't need to have all this space. We had a yard sale to sell off all of our unneeded goods and then we looked around for people to sell our home. The real estate agents all said we needed to make sure our home was fixed up before we could sell it, but we really didn't have the money or the time to spend for such an endeavor. My husband and i saw an ad for Eugenes company and decided to give him a call. He answered right away and swept up off our feet with how polite and how detailed he was . we sold our home to him and had enough time to move to our new house. It was such an easy move
If you're looking to sell your home without the stress of realtors and inspections, call Eugene Romberg. He was ethical in his approach and impressed me with how professional he was. Don't delay, call Eugene and he will help you like how he has helped me and my family.
My deal was smooth, more than fair, and checked off all my needs as the seller of my Bay Area property. I have recommended Eugene and his team to many of my friends and property owners who were looking to get quick cash without any hassles.
The hardest part of selling a home with a buncha repairs needed is getting them fixed. Ha ha well thanks to Eugene and his company we were able to get the money we needed to downsize and move. Thank you !
Eugene really helped with the renovation process of our former home, not only that but he gave me a great cash offer on my house in San Jose.
After receiving many cash offers for our home, we decided to go with We Buy Houses in Bay Area because they had the largest offer alongside the best service. Their communication was great, and they continually made sure that we were okay during the entire moving process. We complete our sale within 10 days, and they gave us the rest of the month to move out! Super sweet and I would highly recommend to my friends or family
If you're looking for an all cash offer for your home and you want the best service, make sure to ask for Eugene of We Buy Houses in Bay Area. He was super helpful, and we couldn't have done it without him. We were in and out of our home in less than 2 weeks. We can finally start the business of our dreams and move somewhere else. Thank you Eugene!
It was such a great experience selling our house to Eugene of We Buy Houses in Bay Area 🙂 We were in a very tight situation and Eugene and his team helped us without batting an eye. From the first wlakthough to the close, we were amazed by the whole process. We would highly recommend using We Buy Houses in Bay Area if you're looking for the best offer for your home.
We Buy Houses in Bay Area can help you sell your home anywhere in the Bay Area. In Oakland, home prices were plummeting when we listed our house. Instead of going with a realtor, we went with Eugene, how gave us a better offer and in all cash! Thank you for helping our family Euegene, I would highly recommend you for anyone thinking of selling their home.
Our parents died and we were both very far away due to our work. Our childhood home hasd no one living in it anymore, and we decided to place it up for sale after the probate session was finished. The thing was is that our parents left the home in not so good of shape. I have gone back for the holidays but i didn't really see how badly things had gotten. We didnt want to deal with any of the renovation stuff so we just wanted to sell the home quickly. We saw Eugene on google and decided to give him a shot. He walked us through everything and made sure we were up to date on the entire process. We sold our parents home and now we can move on. Thank you
Eugene and his team were a great help. Theyy came to our home and broyught us a great cash offer. Within a few days we had our money in hand. Smooth experience overall!
They held our hands through the entire process and made sure we were taken care of. I would highly recommend Eugene and his company if you ever needed to sell a home. 10/10
Next Reviews