Selling An Inherited Home in the Bay Area?
No Matter What Condition It Is In...
We Buy Homes in Probate in the Bay Area
It's simple really, zero commissions, zero fees. All-cash for your inherited home. It's how we do business.
As the best home buying company in the Bay Area, we've helped many inheritors with their inherited Bay Area homes. More likely than not, the inheritors will either live in the home themselves, rent it out, or simply sell it. The problem with selling it traditionally is that you will have to add value by renovations, and by fixing the inherited home overall. With us, it doesn't matter - we'll buy the inherited Bay Area home as it looks right now.
It's Easy for Us To Buy Your Inherited Bay Area House
Your inherited home will certainly be old and will need some tender love and care before you can sell it on the traditional real estate market. After renovating everything and fixing everything - just know that your realtor will still take about 6% from your home's final sale price. That's not all. You will have to spend some time with potential buyers, which can add to your stress. With us, you don't have to lift a single finger for repairs or renovations. We buy homes as-is, and we don't need you to do anything for us to buy your inherited home from you.
Looking to sell your Bay Area home, even though it's not inherited? We'll still buy it from you - no matter the situation:
Don't Sell an Inherited Home With Agents
Instead, you can request an offer from us before you commit to a 6-month contract with an agent.
The hardest part about selling an inherited home with an agent is the fact that it can take up to 3 to 6 months before the home is closed upon. And that's if your inherited home is in great enough condition to sell! You'll be paying for repairs and renovations, while also giving your realtor an additional 6% for their work. We don't know about you - but that's a lot of time and money. With us, we can buy your inherited home in no time. No need to wait. More importantly, you don't have to repair anything either! We'll buy your inherited property as-is.
Inherited Homes Aren't Hard for Us To Buy!
I'm going to be honest with you - selling an inherited home the traditional way can be pretty hard, especially if you don't have any experience in selling a home. Many homeowners will sell a home maybe once or twice in their lifetime. Selling an inherited property can both be a curse and a blessing (depending on your mindset). If you're easily stressed out, be prepared, it's only going to get a lot worse.

Like with all things, there's always an alternative. Selling a home traditionally may work for some - but my team and I provide a solution for those who can't sell their inherited home the traditional way. We have taken the entire real estate selling process and we have made it easier than ever before. We want you to be stress-free, relaxed, and having fun when we buy your inherited home.

My name is Eugene Romberg, and we're here to help by buying your inherited home.

Your Inherited Home in the Bay Area: How We Buy It
The biggest difference in what we do compared to realtors is as stated: we close faster and easier. We deliver a high-quality service that doesn't need banks' or lenders' approval before we can send cash for your inherited home. On top of all that, we don't need you to repair or renovate your inherited home before we buy it!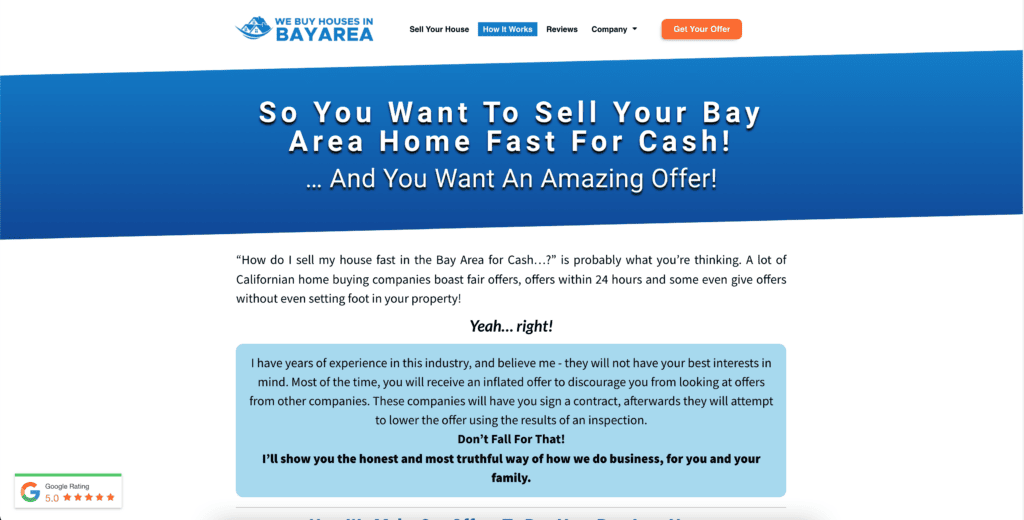 It's all about information. Please let us know about your inherited home and what the current situation is with the form above or below us. From there, me or my team will contact you.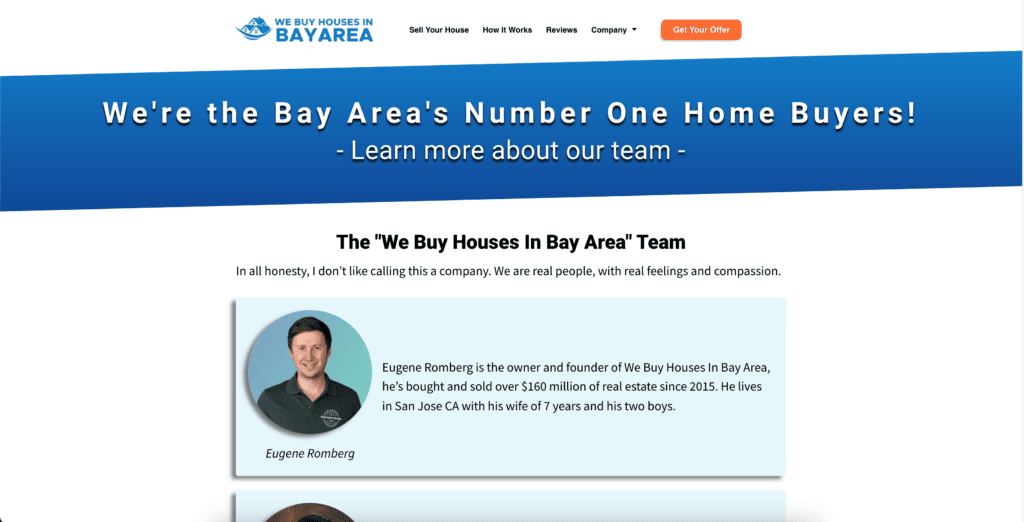 We have nothing to hide, learn more about this amazing company and all the wonderful people in it.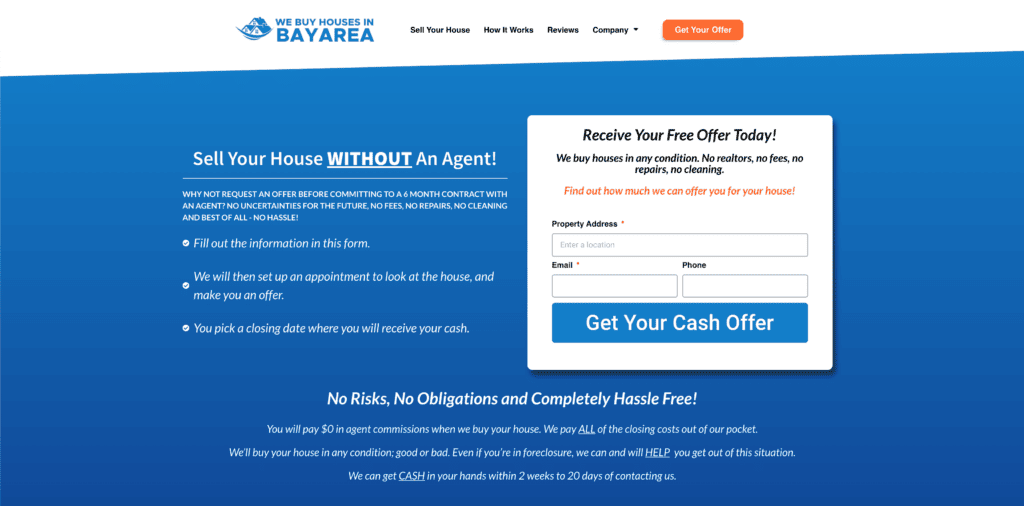 We want to help the community any way we can. That's why I have made a couple of videos (like the one above) to show you what we do, and how we conduct business.
"Getting an old home is always a great thing until you get into them. We had a lot of problems fixing it, and we decided it was better to sell it. Bad news, no realtor would touch our inherited home with a ten-foot clown pole. Eugene came in and helped us out quickly, and we got our cash and scampered out."
~ And Don't Worry… My Team And I Got You Covered!
We're Here To Buy Your Inherited Home!
If you have the time to wait for your inherited home to be sold, be our guest. But if you need to sell your inherited home quickly, or if it's not in the best condition - simply let us know and we can create an all-cash offer for you in no time!
Don't be embarrassed, we'll buy inherited homes no matter what they look like.
With zero fees and commissions, that's how we buy inherited houses.
It's Easy for Us to Buy Your Inherited Home!
Don't worry about a single thing. We'll buy your inherited home while giving you the best experience ever.


We have cash in hand, to help you with your inherited home.
Buying Your Inherited Bay Area Home Fast!
Get instant relief from the burden of your inherited Bay Area property by selling your inherited home directly to us. We prioritize your mental health, and we want to minimize as much stress as possible, to ensure that you get the money you deserve, and fast! If you want to learn about how much you can get for your inherited home, simply fill out the form above or below to find out!

It all starts with honesty and trust. If you're all out of options to sell your inherited home, give us a chance to win your trust by providing you with the best possible help. We can make sure that you and your inherited property are taken care of, with a large cash offer.
We're here to help you. We want to buy your inherited home from you, with no fees or commissions attached. There are no surprises here, just hardworking men and women who want to help you get what you need quickly.
Sell your house to us and you won't even need to clean. We are not here to pass judgement, we are only here to help and make your selling experience exceed your expectations.

If you're pressed for time, and you need to sell your inherited home quickly for whatever reason - we can close on your inherited property in less than two weeks if needed. We don't have to wait for bankers or other buyers to buy your inherited home, we'll simply procure our own money to do so. That's what separates us from realtors, we deal directly with homeowners to give them the best offer available, without wasting a second of time.
Fast And Effective - Sell Your Inherited Bay Area Home To Us Today!
We have helped many inheritors throughout the entirety of the Bay Area by buying their inherited homes. We do it in a calm, fashionable manner, that allows us to relaxingly get you your cash, without hassle. You don't need to wait for anyone else but yourself. The moment you ask us to help you, we'll be going full speed ahead.
We have bought homes from all over the Bay Area from homeowners just like you. We have bought houses in all cash in San Jose, CA and we have purchased properties in San Francisco, CA, to name a few.
It doesn't matter where in the Bay Area you have a house for sale. Whether you want cash for your house in Palo Alto, CA or if you want a cash offer for your home in Richmond, CA we will purchase it!
100% FREE! We Don't Charge A Thing!
Selling Your Home in the Bay Area Has Never Been EASIER!
Creating cash offers for Bay Area homes is what my team and I specialize in. If you're curious to see how much we will pay for your house - fill out our form above or contact me directly. Thank you!