The Best Way To Sell Your Home
We Beat Foreclosure in the Bay Area
If Foreclosure Is On Your Tail,
Let Us Help You Beat It

. Even If Your Home Is in Bad Condition,

We'll Still Buy Your Property

in the Bay Area. Process Works!
We pride ourselves on having the best real estate investment company in the Bay Area. "We Buy Houses in Bay Area" was started to give homeowners an additional solution in selling their Bay Area homes. A foreclosure process will not give you enough time to sell your Bay Area home the traditional way. With us, we'll buy your Bay Area home and close in ten days if needed.
The Best Home-Buying Company That Will Beat Foreclosure for You!
Selling a home at any time of your life will be stressful. If you're about to battle foreclosure, just know that it will get even harder. But don't fret - we're here to buy your home with an all-cash offer, without fees or commissions. I hate foreclosure, and so does my team.
If you need another solution to sell your Bay Area home, we can still help you even if you aren't going through foreclosure:
Want To Beat Foreclosure? Don't Sell With An Agent
Instead, you can request an offer from us before you commit to a 6-month contract with an agent.
It takes 3 to 6 months to sell your home the traditional way. You may not even have enough time for a buyer to have a walkthrough. That's why we're better than working with agents in this situation, we can close quickly on your home and buy it with straight cash. On top of that, you have no obligations to our offer.
Beat Foreclosure, and Start A New Life
Closing quickly on your home gives you two advantages. The first is that you can absolve yourself from foreclosure, and the second is the ease of process for you to move out, and clear out without any stress. And that's what we do best - for you, and your family.

We are the best home buying professionals who are here to help you sell your home - while also saving you from foreclosure. If you know anyone who needs help, or if you need help - don't be afraid to ask us.

My name is Eugene Romberg, I help families and homeowners for a living.

How Do I Defeat Foreclosure In the Bay Area?
Foreclosure is a scary thing, and it strips you of all the time you need, just to defeat it. Time is always of the essence and that's why we don't deal with any banks or third parties to get your money! We buy Bay Area homes directly from homeowners, which allows us to close quicker and easier. Let us help you get where you need to be.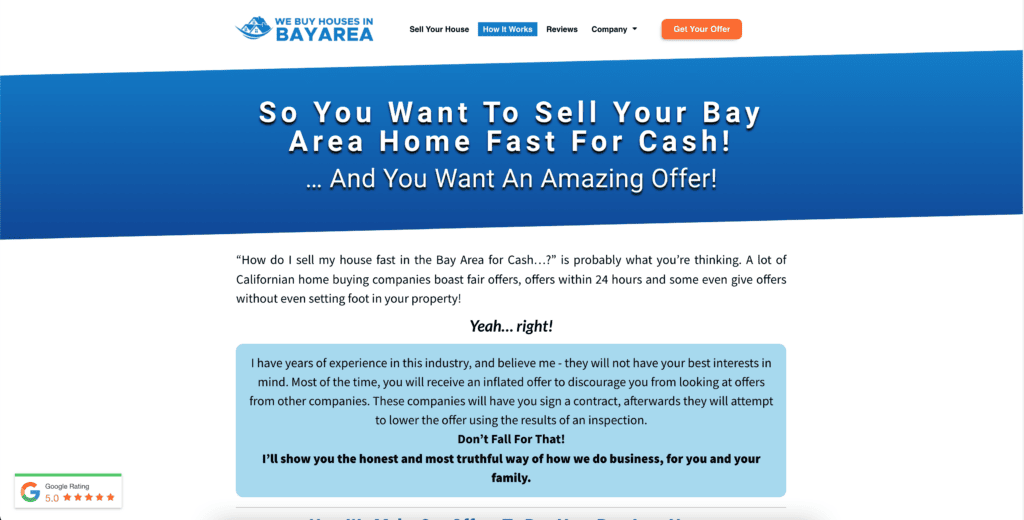 Call us or fill out the form above. We need to know about your current situation, and the best steps forward to helping you.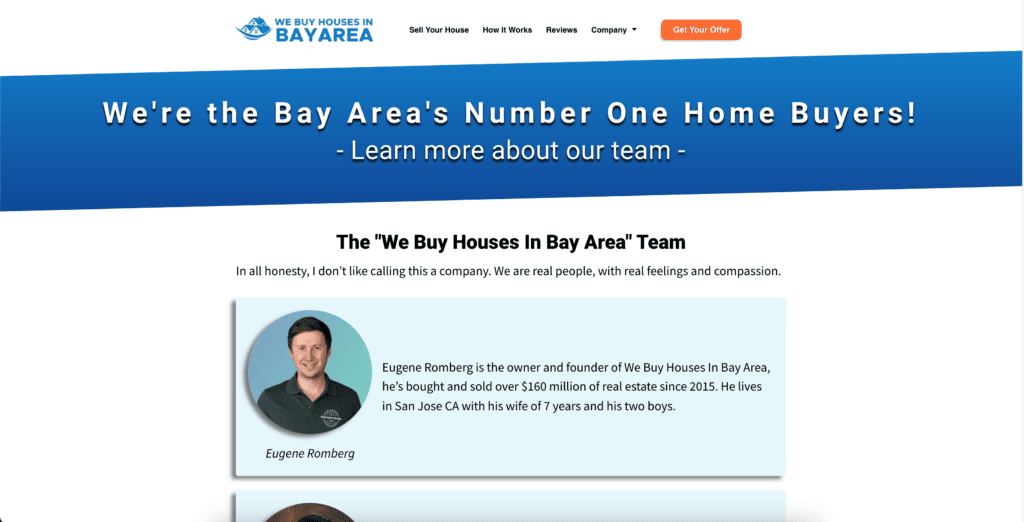 My team and our mission. Get to know who we are, and what we do best. I promise it won't be boring!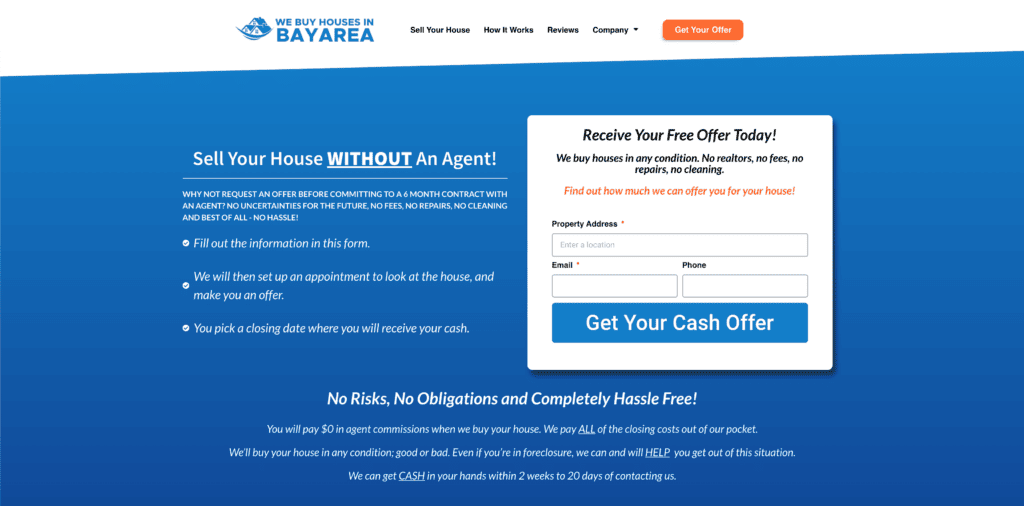 It's easy to know what to do when you're experienced like we are. The video above shows you how we help homeowners!
"When you go down the slippery slope of foreclosure, it gets hard to get everything sorted out. My Bay Area home was about to be stripped from me without anything in return, and I was at my wit's end. I saw Eugene's website and thought to give it a try. I'm sure glad I did, he saved my life and my marriage."
~ And Don't Worry… My Team And I Got You Covered!
Foreclosure is Not Impossible to Beat. You're In Good Hands With Us.
Many of the people we have helped felt hopeless at one point or another when trying to sell their homes before foreclosure. We came in and made their dream into a reality.
If You're Worried, Let Us Calm You Down. We Will Beat Foreclosure For You
Foreclosure takes a while before it fully consumes your home and your life, beat it soon - so you can start living your life again.
Receive Cash and Beat Foreclosure!
Zero repairs needed, zero renovations needed! We'll buy your house right now, as it stands!


If you need help, don't be afraid to reach out to us. We're here for you and your family!
Buying Your Bay Area Home Fast to Beat Foreclosure
Take a deep breath, everything is going to be okay. When you sell your foreclosed Bay Area home to us, we will have enough money to help you escape foreclosure, while having a little extra to help yourself get back on your feet. We have zero charges regarding our services, so don't worry fret over anything. We've got you covered.

Understand this, if the foreclosure process on your home doesn't get stopped, you'll be in a hole that will be extremely hard to get out of. More importantly, your credit will be shot. Rather than dealing with all the heartache of doing that - give yourself a chance at life, and beat foreclosure with the help of professionals.
If you can spare us some information about your current foreclosure situation - we promise to formulate a plan that will take care of it for you. No need to fret, we're here to save the day!
Beating foreclosure won't solve all of your problems - but it certainly solves your biggest. Believe in us, as so many homeowners have in the past. Whether it's a messy divorce, a furious foreclosure, or anything needing your home to pay off, we'll be here to help. We've earned the trust of many throughout the Bay Area for our honesty and transparency, and we want to do the same for you.
The Fastest Method To Defeat Foreclosure in the Bay Area
Whether you like it or not, the foreclosure will not stop until you put your foot down and ask for our help. As the best home buyers in the Bay Area, our experience with foreclosure comes from helping families overcome, and destroy the foreclosure process. If you'd like to learn about some of them, read the reviews below!
We have bought homes from all over the Bay Area from homeowners just like you. We have bought houses in all cash in San Jose, CA and we have purchased properties in San Francisco, CA, to name a few.
It doesn't matter where in the Bay Area you have a house for sale. Whether you want cash for your house in Palo Alto, CA or if you want a cash offer for your home in Richmond, CA we will purchase it!
You Have No Obligations to Our All-Cash Offer!
Without A DOUBT, The Easiest Way To Sell Your Bay Area Home
Creating cash offers for Bay Area homes is what my team and I specialize in. If you're curious to see how much we will pay for your house - fill out our form above or contact me directly. Thank you!