Begin To Sell Your Home with Code Violations
in the Bay Area With Us Today!
Buying Houses with Code Violations in Walnut Creek
We Have Cash In Hand - Ready To Buy Your Walnut Creek Home With Code Violations. We Want To Give An Alternative Solution to Selling and Buying Homes. For Us, Helping A Homeowner is Paramount, And We're Here to Give You A Large Cash Offer For Your Home!
If you're amongst the many homeowners who can't sell their homes because of damages or code violations - you have come to the right place. "We Buy Houses in Walnut Creek" was created to help homeowners who didn't have the capital necessary to fix and amend their homes before selling them. Rather than going through all the hoops of working with a realtor, help yourself and your family by working with us. We provide cash for Walnut Creek homes quickly and easily.
If Your Home Has Code Violations, We'll Still Buy It!
Selling a home will always be hard. If you need repairs done or if you have code violations - it will be even harder. If you work with a realtor. We buy houses with cash to make the experience more enjoyable for homeowners, and allow them to move on, even if their home needs work. You won't be paying any commissions and you won't have any fees either.
It's okay to be frustrated, just know that we have bought houses and property all over Walnut Creek. Even if you need to sell because of:
Don't Waste Another Dollar or Minute of Your Time With Agents
If you're curious about working with us, give us a call or contact us! Get your bases loaded before you start working with a real estate agent.
We all need help sometimes, and if you think you need some help selling your home, we're always ready to step in for you. You see, our whole process comes from helping your needs first, and the offer that comes after is a reflection of how much we want to help you.
Selling Homes With Code Violations, We Make It Easy!
We understand that it can get pretty hectic when you begin to sell your home, especially when it has one or more code violations within it. Take our advice, the only time you should sell your home with a realtor is if you have the time and money to make repairs and renovations. If you don't have either, I think it would be best if we were to help you first.

My team and I are dedicated to making sure you and your family are taken care of. How we do this is by crafting an offer that you will love, and catering to your needs and wants. From there, let us do the heavy lifting, while you guys sit back and count your cash.

Don't worry about what others may think of you. If you need help, reach out to us and we'll do everything we can. My name is Eugene Romberg, and I can promise you that.

Selling A Home with Code Violations Is Easy!
It's pretty easy to sell your home in Walnut Creek with code violations. The reason being is that we can purchase your home from you at any time. We don't have to rely on third parties or different lenders because all of our cash comes in-house. Which gives us the flexibility and the capability to buy homes quickly and easily!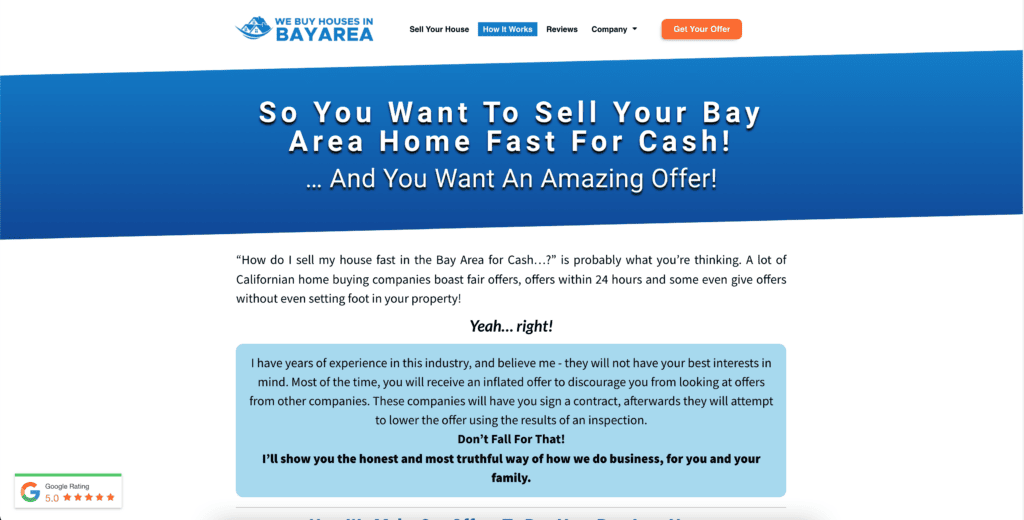 Want to know how our offer works? Read more on the page above!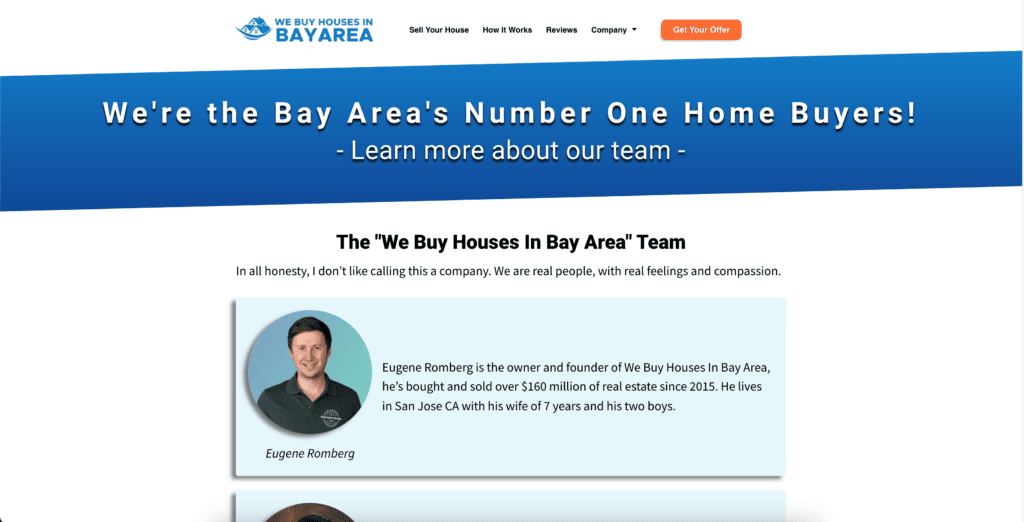 If you're curious about my team and me, take a gander at our biographies above!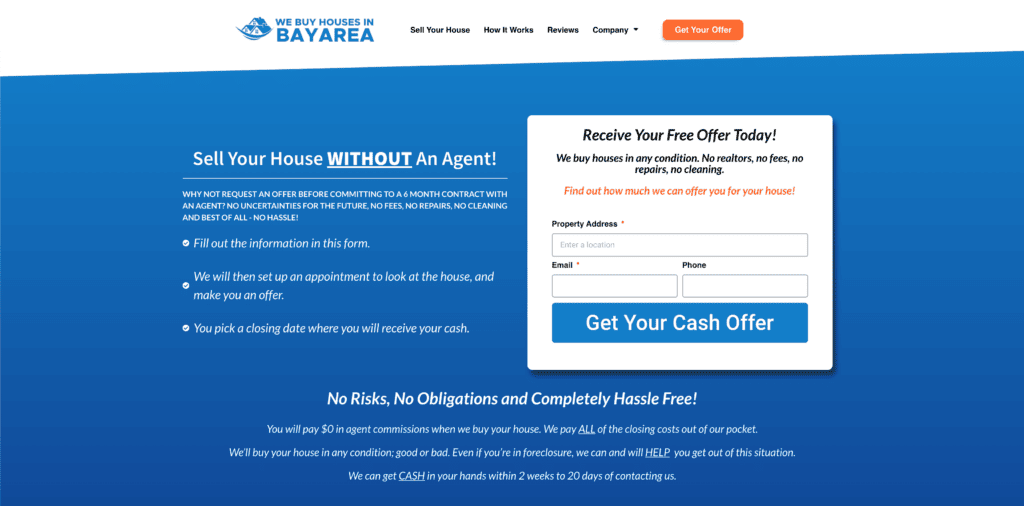 We want to help the community any way we can. That's why I have made a couple of videos (like the one above) to show you what we do, and how we conduct business.
"Our parent's home was in bad shape and had a bunch of code violations. We wanted to sell their Walnut Creek home as-is because we wanted to devote our funds towards making them comfortable. We called We Buy Houses in Walnut Creek, and they showed us everything we needed to sell our parent's home to them. Thank you, guys."
~ And Don't Worry… My Team And I Got You Covered!
Don't Be Worried. We'll Still Pay A Hefty Price For Your Walnut Creek Home!
The best part about working with us first is that we can do a walkthrough and create an offer for your home in less than 48 hours. On top of that, we don't have any commissions or fees to spoil your profit. Everything is 100% yours, and you don't even need to repair or clean your home either!
We Don't Care About Your Code Violations, We Just Want To Give You Cash
Our offers are based on your home's After Repair Value. We'll show you our calculations, so you can relax while we get it to you.
We're here to buy houses as-is. No more agents, fees, or repairs.


Want to see how much we can offer for your home?
No Stress While Selling Your Walnut Creek House to the Best!
If you're in trouble with your finances, and the current state of your home - don't be afraid to reach out to us. We'll buy your Walnut Creek home in a flash, and you can say goodbye to those code violations. No more impending doom, just sunshine, and rainbows. We don't charge you a single cent for our offer, and you have no obligations to it either.

The most fun part of our process is getting to know one another. We can share in our joys, our problems, and how we can help you. We want to create relationships with our clients to advise them, and to bring a solution that best fits their situation. Once we have done our research, we can create an offer for you that will suit your needs and then some.
If you're dreaming about the day your home sells, wake up. We're here to make that dream into a reality with cold, hard cash in your hands!
We Buy Houses As-Is. Which Means No Cleaning Required!
If you're embarrassed about the condition of the inside of your home - don't worry about it. We're here to help in any way that we can, and we'll clean everything up for you. When you begin the moving process, simply take what you want or need, and leave everything else for us!

Sell your house to us and you won't even need to clean. We are not here to pass judgement, we are only here to help and make your selling experience exceed your expectations.

The best part about working with homeowners is seeing the look on their faces when we've helped them out of a bad situation. It could be from a hoarding house, a foreclosure, or simply not having enough money to move forward - when we say we can get you out of a hard place, we mean it. For us, it's all about creating a gameplan to get you out, while giving actionable steps that are easy to follow. Once everything has cleared, all you need to do is count your cash, and move on with your life.
The Easiest Way You Can Sell Your Walnut Creek Home to Beat Code Violations!
In my experience, if you have a great home in great condition, you should sell it with a realtor. If you don't have the luxury of a home in great condition (and you can't afford to fix it) you should reach out to a home buyer, like us. We don't hassle or stress you with our process, and you deal directly with us and no other buyers.
We have bought homes from all over the Bay Area from homeowners just like you. We have bought houses in all cash in San Jose, CA and we have purchased properties in San Francisco, CA, to name a few.
It doesn't matter where in the Bay Area you have a house for sale. Whether you want cash for your house in Palo Alto, CA or if you want a cash offer for your home in Richmond, CA we will purchase it!
Don't Worry, We Do All The Work!
It should come without saying, we are the BEST at buying Walnut Creek homes.
If you're in the market to sell your Walnut Creek home, but your home currently isn't in market shape - then let us buy it from you with an all-cash offer. Fill out your information above or below!