Begin To Sell Your Home with Code Violations
in the Bay Area With Us Today!
Buying Solano County Homes with Code Violations
We Have Cash In Hand - Ready To Buy Your Solano County Home With Code Violations. We Want To Give An Alternative Solution to Selling and Buying Homes. For Us, Helping A Homeowner is Paramount, And We're Here to Give You A Large Cash Offer For Your Home!
"We Buy Houses In Solano County" started as a way to help families and homeowners who couldn't sell their properties the traditional way. We have learned that through honesty and transparency, we can buy any Solano County home directly from the homeowner without fees or commissions. If you have a Solano County home with one or multiple code violations, let us take a look, and then craft an offer to help you and your family with cold, hard cash.
If Your Home Has Code Violations, We'll Still Buy It!
We're here to do two things, buy your home from you with cash, and help you through the home selling process. As we have said before, we don't need more than one walkthrough to buy your home, and you don't have to deal with the unpleasant parts of selling your home. Such as closing costs, commissions, and cleaning.
It's our job to buy houses in Solano County, and we will still buy your property even if you have/are:
Don't Waste Another Dollar or Minute of Your Time With Agents
If you're curious about working with us, give us a call or contact us! Get your bases loaded before you start working with a real estate agent.
Our company is built on the pillars of honesty and transparency. We want to give you the best offer possible for your home. Not just for you, but your family as well. We're here to help, and we want to make sure that we can. That's why our offers have zero obligations. You have everything to gain, with no risk at all.
House Selling, Without a Fuss, Without Stress Even With Code Violations
If you have the capital to fix up your home that has one or multiple code violations, you should do it. We're here to help the homeowners who simply can't afford to fix those code violations, and who need cash fast for whatever reason. Just know that dealing with agents, open houses, and working with realtors can get pretty tough, even for more experienced homeowners.

My team and I are known home buying professionals who will be able to buy your home from you quickly and easily. It's not hard when you have an abundance of cash, so when you see our offer, we hope you love it as much as we do!

My name is Eugene Romberg, and I want to set expectations high, and bust through them even further! I'm here to help whenever you need me!

Selling My House With Code Violations - Made Easy!
We don't have to rely on third parties such as private lenders and banks to purchase your Solano County home with code violations. We have our own cash, and because of that - we're able to buy homes in any condition and at any time. We're not here to simply buy your home, but to also give you the best cash offer possible.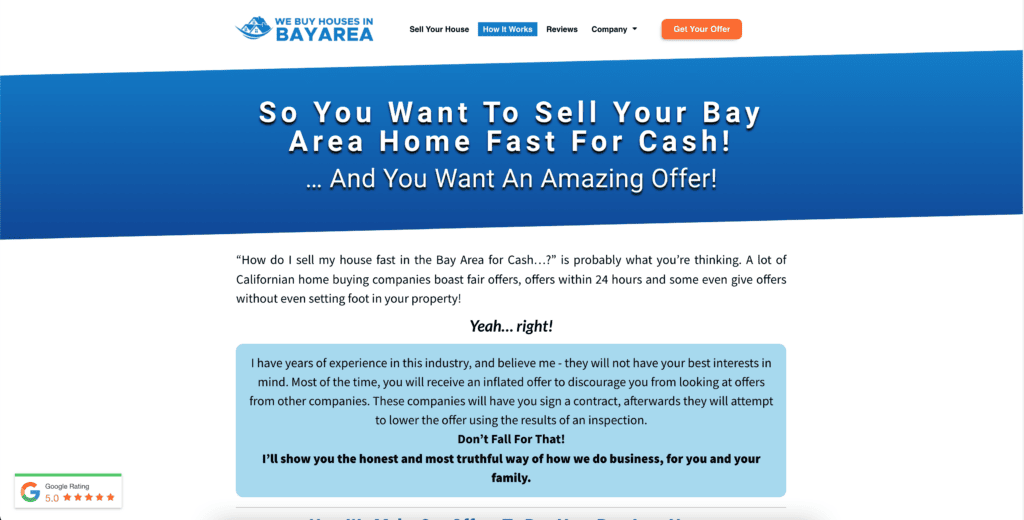 Learn more about how we arrived at your price offer above!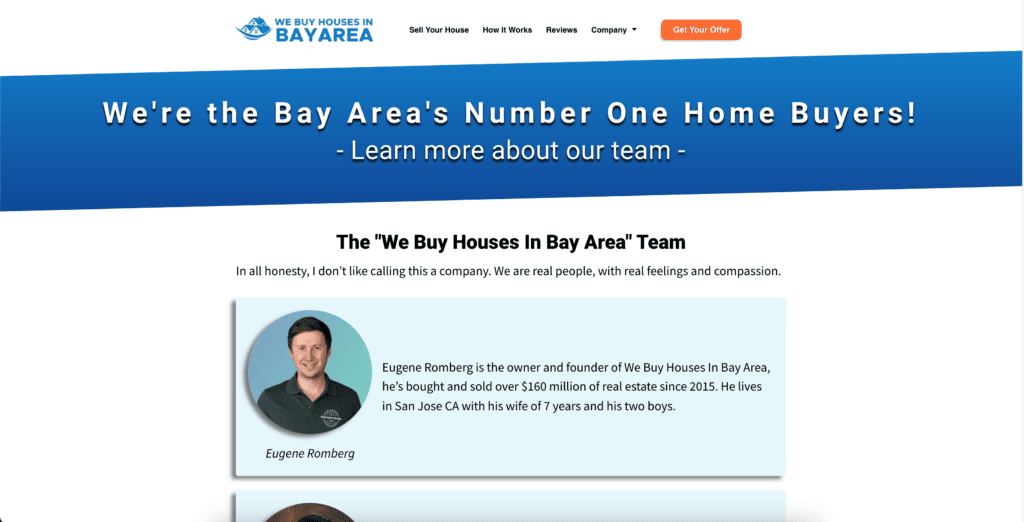 If you're curious about my team and me, take a gander at our biographies above!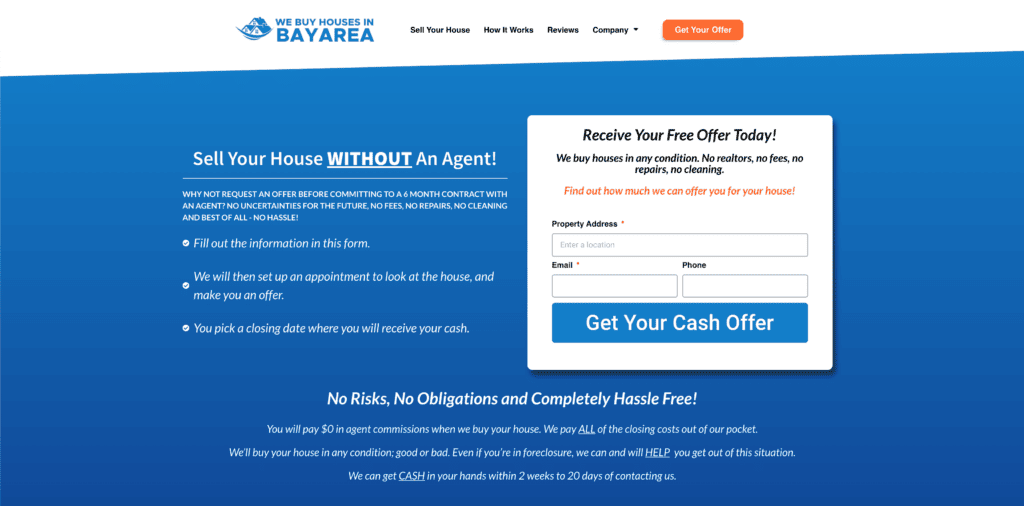 We want to help the community any way we can. That's why I have made a couple of videos (like the one above) to show you what we do, and how we conduct business.
"We had all sorts of issues with the home that was worse now after the years of neglect. We needed to sell the home to pay for our medical bills and to downsize, but no one wanted to buy it for a year. Eugene and his people came by to help, and they got us everything we needed and more. Thank you so much."
~ And Don't Worry… My Team And I Got You Covered!
Your Solano County Home Is Beautiful the Way It Is. That's Why We Want It For Top Dollar!
Realtors can only really help you if your home is in mint condition and fairly modern. If your home needs a little TLC, you should ask for our opinion first. We have a no-obligation offer, and we pay you in all cash. This means no commissions or fees, just profit for you.
Sell Your Home With Code Violations to Us and Be Free From Stress
After Repair Value is your home's market value after we have worked on it. This value is key to how much we will offer for your home.
It's not about the money, it's about removing the stress from your life by buying your damaged home.


All we want to do is make a no-obligation offer for your home!
The Best Offer And Process to Buy Your Solano County Home
If you're in trouble with your finances, and the current state of your home - don't be afraid to reach out to us. We'll buy your Solano County home in a flash, and you can say goodbye to those code violations. No more impending doom, just sunshine, and rainbows. We don't charge you a single cent for our offer, and you have no obligations to it either.

It's all about first impressions. We want you to see and understand that we are honest, hard-working people who just want to help homeowners in need. We'll show you how we do business, and how we create your offer. From there, all we need to discuss is how you want your cash, either by wire transfer or check. You don't even need to clean your home either before we buy it!
It's all fun and games until you actually begin to sell your home. Needless to say, we want to keep things fun, and with a great offer like ours - you'll be laughing all the way to the bank!
Sell your house to us and you won't even need to clean. We are not here to pass judgement, we are only here to help and make your selling experience exceed your expectations.

I'm here to personally make sure you and your family are taken care of during this entire process. Whether your home needs repairs, has fire or water damage, or if you just need some cash quickly for an unwanted/unused home - we're here to help. It's not about just giving you cash for your Solano County home, it's about understanding your situation and creating the best solution for it. From there, we'll work alongside you to get things done.
The Easiest Way You Can Sell Your Solano County Home to Beat Code Violations!
If you're pressed for time and you need to sell your Solano County home quickly, working with a realtor will end up in more lost time. It takes an average of 3 to 6 months before your home can be sold on the traditional market, and that's for a home in great condition. If your home isn't in great condition, it will take longer for it to sell, or you will have to sell it at a credit. Escape the rigamarole, and get a cash offer for us for your home immediately. You won't have to wait another second.
We have bought homes from all over the Bay Area from homeowners just like you. We have bought houses in all cash in San Jose, CA and we have purchased properties in San Francisco, CA, to name a few.
It doesn't matter where in the Bay Area you have a house for sale. Whether you want cash for your house in Palo Alto, CA or if you want a cash offer for your home in Richmond, CA we will purchase it!
You Have No Obligations to Our All-Cash Offer!
We are the Best Way to Sell Your Home in Solano County, CA
You might be in many bad situations, but we'll be here to help. We are flexible, and we can offer straight cash for your Solano County home fast.