Begin To Sell Your Home with Code Violations
in the Bay Area With Us Today!
Buying Houses with Code Violations in Sausalito
Sell Your Home in Sausalito, California With Code Violations, and Make More Money! No Agent Fees, No Repairs - 100% FREE! Here's How Our Home Buying Process Works!
"We Buy Houses In Sausalito" started as a way to help families and homeowners who couldn't sell their properties the traditional way. We have learned that through honesty and transparency, we can buy any Sausalito home directly from the homeowner without fees or commissions. If you have a Sausalito home with one or multiple code violations, let us take a look, and then craft an offer to help you and your family with cold, hard cash.
We Can Buy Your Home No Matter How Many Code Violations You Have!
Before you look to sell your home with code violations with a realtor, you should be sure about what you give up. Any damage to your home will have to be credited from you onto the buyer's price, which means you lose money and you have to pay 6% of your final sale price to your realtors. That's a lot of money, the money you shouldn't need to pay.
There are many reasons why someone needs to sell a home, but there is only one reason why we buy them, to help you with:
Don't Waste Any More Time With Agents
We're friends with real estate agents, but they do make you work with them for quite a while before they sell your home. With us, you can get an offer immediately - without any lag.
We are the most reliable and the most honest local homebuyer that you will ever meet in Northern California. We're not in this business to waste anyone's time, and that is why we are dedicated to getting you the best possible offer. Our offer is 100% obligation-free as well.
It's All About Selling Your Home Code Violations, Stress-Free ~
If you're scared about your home selling process and the time that goes into it, we're here to tell you that it's going to be okay. Here's the thing - if your home has no code violations, damage, and it has been renovated recently, we recommend that you sell with a realtor. If it has all of the above, we highly recommend that you work with us.

As the best local homebuyers in Sausalito, we are here to help you and your family by buying your home - even if it has code violations. We are here to provide a service and standard that realtors simply don't have.

My name is Eugene Romberg, and I want to set expectations high, and bust through them even further! I'm here to help whenever you need me!

We Want To Buy Your Home With Code Violations!
If you're looking for the best all-cash buyers of Sausalito homes, we are right in front of you. We can purchase homes with code violations because we have all the cash and capital necessary - right in our own pockets. Cash is king in our industry, and we don't need to rely on third parties or lenders in order to buy your home.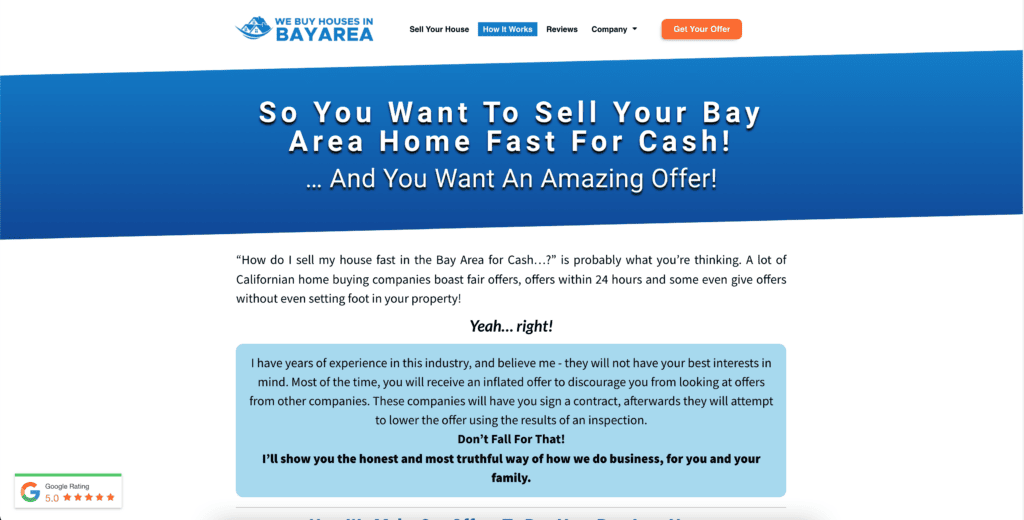 Looking to see how we formulate our offers? In the link above you will also be shown some of our previous offers and how as well.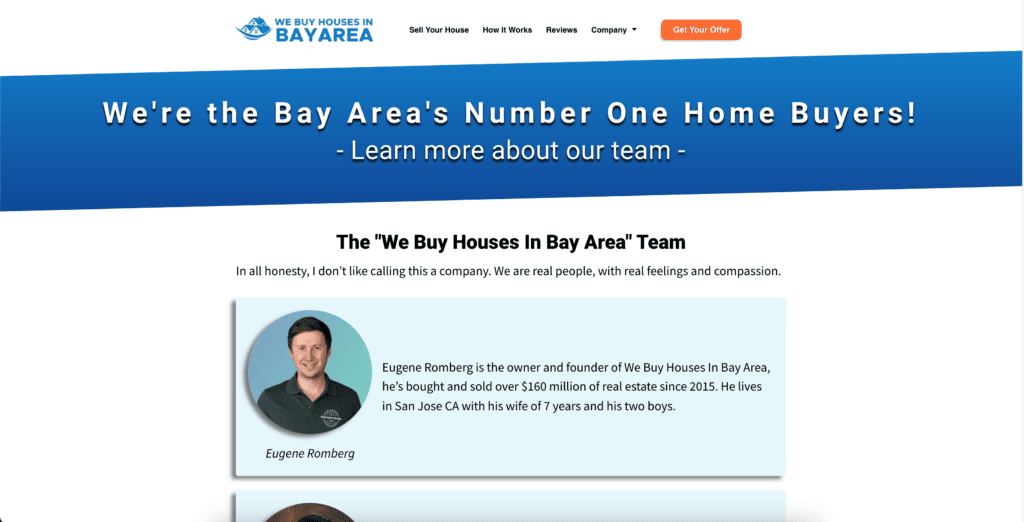 We don't have anything to hide. Learn about my team and what we do well! You'll learn about my humble beginnings and my team's spirit.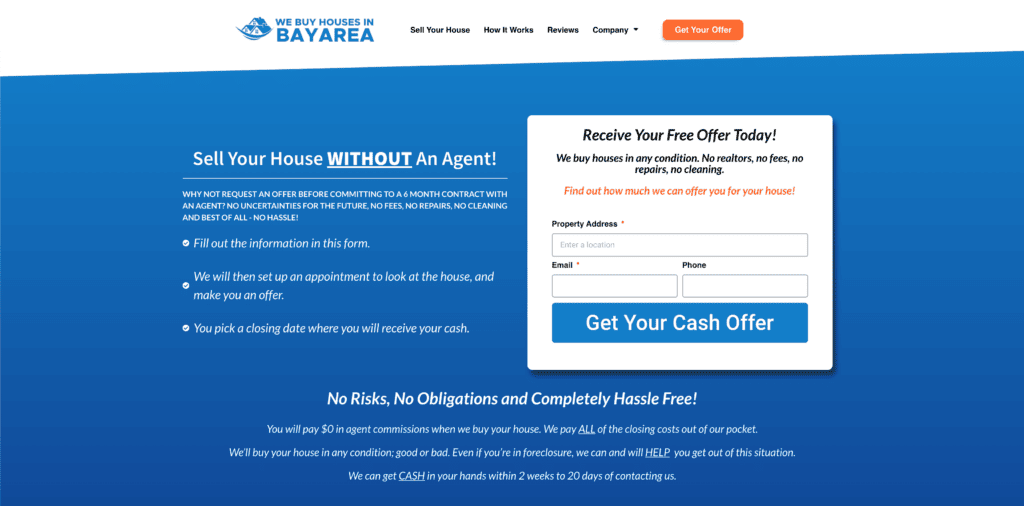 Check out the video above if you want to learn more!
"It's hard to sell a home in Sausalito if it's not in good condition the mine. The good news is that there are still people looking to buy homes like mine! We needed to move and sell our home to gain some capital to downsize, and our experience was fantastic!"
~ And Don't Worry… My Team And I Got You Covered!
We Want To Buy Your Sausalito Home Immediately! Learn More Below!
Realtors can only really help you if your home is in mint condition and fairly modern. If your home needs a little TLC, you should ask for our opinion first. We have a no-obligation offer, and we pay you in all cash. This means no commissions or fees, just profit for you.
We Don't Care About Your Code Violations, We Just Want To Give You Cash
Our offers are based on your home's After Repair Value. We'll show you our calculations, so you can relax while we get it to you.
We buy houses without commissions, fees, or agents - no charges, just cash.


Ready to find out about your offer?
Let Us Buy Your Sausalito House Before It's Too Late!
If you're in trouble with your finances, and the current state of your home - don't be afraid to reach out to us. We'll buy your Sausalito home in a flash, and you can say goodbye to those code violations. No more impending doom, just sunshine, and rainbows. We don't charge you a single cent for our offer, and you have no obligations to it either.

We just want to learn about you and your current situation. The more information we have to work with, the easier the whole overall process will be. It's about being honest, open, and transparent with one another. It is the fastest and most hassle-free way to get anything done, let alone selling a home. So trust us, we'll explain to you our entire process, down to the dollars of what the offer shows you.
It's hard to understand the workings of high finance, that's why we buy homes with all-cash!
We'll Take Care of the Cleaning, You Can Just Relax
If you're embarrassed about the condition of the inside of your home - don't worry about it. We're here to help in any way that we can, and we'll clean everything up for you. When you begin the moving process, simply take what you want or need, and leave everything else for us!

Sell your house to us and you won't even need to clean. We are not here to pass judgement, we are only here to help and make your selling experience exceed your expectations.

It can be hard to recognize that you need help. We've all thought that we could manage on our own, but when push comes to shove - especially with things regarding your property, you will need the help of a professional. Here, you get more than just a professional. You get a best friend who will lead you through every step of the way with no judgments. As we have said before, it doesn't matter to us about the condition of your home, all that matters is your current situation, and how we can help.
Simple And Efficient - The Best Way To Sell Your Sausalito Home With Code Violations!
If you leave your code violations unfixed, your city could potentially fine you for $500 every day until you get legal documentation that it has been repaired. Five big bills is a lot of money, especially for someone who has a family. Rather than pay that continually and have no options, we can buy your home from you - with zero commissions and the best offer possible!
We have bought homes from all over the Bay Area from homeowners just like you. We have bought houses in all cash in San Jose, CA and we have purchased properties in San Francisco, CA, to name a few.
It doesn't matter where in the Bay Area you have a house for sale. Whether you want cash for your house in Palo Alto, CA or if you want a cash offer for your home in Richmond, CA we will purchase it!
Easy, Stress-Free Home Selling!
We Simply Buy Sausalito Homes With the Best All-Cash Offer
If you need help defeating foreclosure, or if you just need guidance to sell an inherited home - you've come to the right place. We are here to buy your Sausalito home with cash!