Begin To Sell Your Home with Code Violations
in the Bay Area With Us Today!
Buying Santa Rosa Homes with Code Violations
Many Realtors Are Afraid of Selling A Home With One or More Code Violations, For Us - It Serves as A Starting Point to Help You. We Aren't Afraid, We're Here to Simply Give You The Best Offer Possible for Your Santa Rosa Home!
"We Buy Houses In Santa Rosa" started as a way to help families and homeowners who couldn't sell their properties the traditional way. We have learned that through honesty and transparency, we can buy any Santa Rosa home directly from the homeowner without fees or commissions. If you have a Santa Rosa home with one or multiple code violations, let us take a look, and then craft an offer to help you and your family with cold, hard cash.
If Your Home Has Code Violations, We'll Still Buy It!
Don't be scared about selling your home. It can be a very easy process. Where many homeowners find grief is in their home's condition. If your home has damage, it can be very difficult to sell on the traditional market. That's why we're here, to help homeowners by buying their properties with all-cash, with no commissions or fees.
Our mission is to help families all around Santa Rosa by buying their homes. If you're currently embroiled in these situations, let us know:
Don't Waste Any More Time With Agents
If you're curious about working with us, give us a call or contact us! Get your bases loaded before you start working with a real estate agent.
Our company is built on the pillars of honesty and transparency. We want to give you the best offer possible for your home. Not just for you, but your family as well. We're here to help, and we want to make sure that we can. That's why our offers have zero obligations. You have everything to gain, with no risk at all.
We Make It Easy, Easy To Sell Your Home With Code Violations
If you have the capital to fix up your home that has one or multiple code violations, you should do it. We're here to help the homeowners who simply can't afford to fix those code violations, and who need cash fast for whatever reason. Just know that dealing with agents, open houses, and working with realtors can get pretty tough, even for more experienced homeowners.

In our time as the best home buyers in Santa Rosa, we have learned that by working directly with homeowners, we can create the best offers. That is why we take into account your entire situation and build a plan to help you - with the biggest and best offer possible.

My name is Eugene, and I'm a home buying professional who has seen it all in this business. If you need help with your current financial situation, give me a ring, and let's get acquainted.

Selling My House With Code Violations - Made Easy!
Buying a home with code violations has never been hard for us. It's because we have our own money, our own capital to purchase homes and properties within Santa Rosa. We don't need to worry about third parties, banks, or lenders, because we have our own cash. We don't wait for anyone, and neither should you.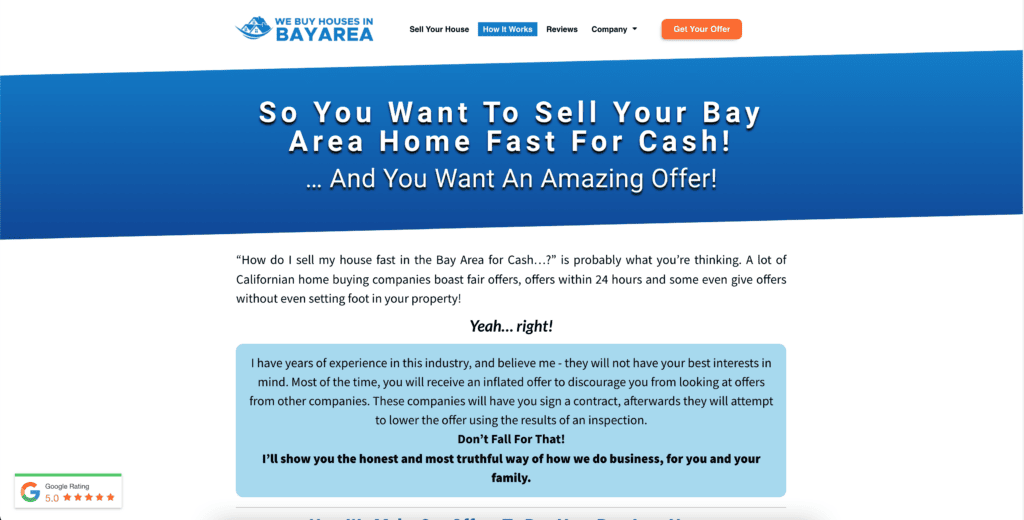 Take a look at how we calculate our offer for your home. Also, we have multiple examples of other offers we have made on houses in the past!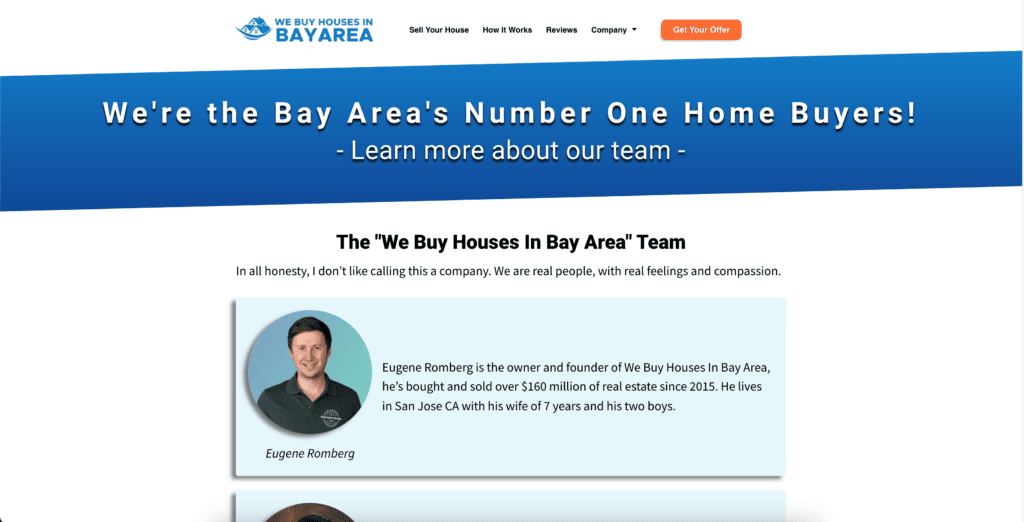 I'd love to learn more about you and your family, but in the meantime - learn about my team and our expertise.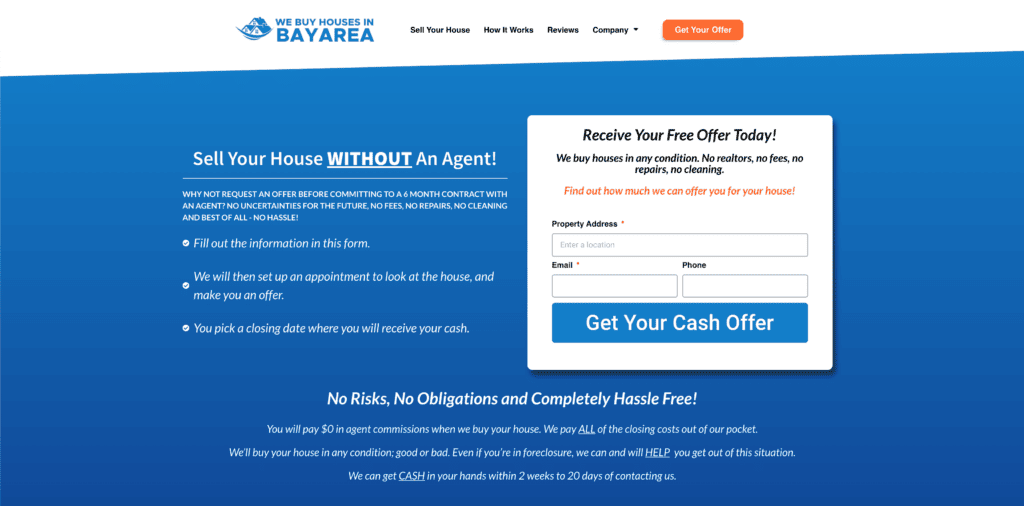 If you want to know how I sound, and how we buy homes, click the video above us.
"We had all sorts of issues with the home that was worse now after the years of neglect. We needed to sell the home to pay for our medical bills and to downsize, but no one wanted to buy it for a year. Eugene and his people came by to help, and they got us everything we needed and more. Thank you so much."
~ And Don't Worry… My Team And I Got You Covered!
We Want To Buy Your Santa Rosa Home Immediately! Learn More Below!
The best part about working with us first is that we can do a walkthrough and create an offer for your home in less than 48 hours. On top of that, we don't have any commissions or fees to spoil your profit. Everything is 100% yours, and you don't even need to repair or clean your home either!
Your Code Violations Won't Stress You Anymore, We Will Buy Your Home Today!
After our walkthrough or virtual walkthrough, we will access your home's After Repair Value to create an offer for your home.
Ready For Your All Cash Offer?
We buy houses without commissions, fees, or agents - no charges, just cash.


See how much we can offer you for your home!
Quickly Buying Your Santa Rosa Home Without Hassle!
If you're currently stressed out about selling your home, don't worry - we're here to help! Just know that we don't care about how much damage or how many code violations your home has. All we care about is its true value, and how we can use it to help you. We can and will show you an offer for your home, that will help out and then some. From there, all you need to do is kick back and relax.

It's all about first impressions. We want you to see and understand that we are honest, hard-working people who just want to help homeowners in need. We'll show you how we do business, and how we create your offer. From there, all we need to discuss is how you want your cash, either by wire transfer or check. You don't even need to clean your home either before we buy it!
Control fate, and get yourself out of that difficult situation you're currently in! We want to help you with a great cash offer, so don't be shy - call us!
You Don't Have to Clean A Thing!
If your home is out of order on the inside and you're scared that that won't allow us to buy it, don't fret. As we have said earlier, we buy homes in all conditions, which means that we don't care about the mess inside. Keep all the items that you want when you move, and leave everything else for us to clean up.

Sell your house to us and you won't even need to clean. We are not here to pass judgement, we are only here to help and make your selling experience exceed your expectations.

It's more about helping you promptly, and understanding your situation than simply just buying your Santa Rosa home with cash. You see, we need to know if you're going through foreclosure if you have code violations, or anything else to know what your timeline is. Once we know how much time we have left to help you, we can begin our work quickly and get the job done efficiently. We want to help you when you need the help, not when you're SOL.
Simple And Efficient - The Best Way To Sell Your Santa Rosa Home With Code Violations!
Realtors are great people, and we work with a lot of them. It's just that home investors and realtors provide different services and solutions. If your Santa Rosa home is in great condition and has been renovated recently, you can sell it for top dollar with a realtor. If you need cash quickly and your home in not in the best condition and hasn't been upgraded, we can give you the most cash for it.
We have bought homes from all over the Bay Area from homeowners just like you. We have bought houses in all cash in San Jose, CA and we have purchased properties in San Francisco, CA, to name a few.
It doesn't matter where in the Bay Area you have a house for sale. Whether you want cash for your house in Palo Alto, CA or if you want a cash offer for your home in Richmond, CA we will purchase it!
Don't Worry, We Do All The Work!
We Simply Buy Santa Rosa Homes With the Best All-Cash Offer
Your home can be in bad shape, and we'll still buy it. Our company specializes in giving cash fast for all Santa Rosa homes.