Begin To Sell Your Home with Code Violations
in the Bay Area With Us Today!
We Buy Houses with Code Violations in Santa Clara
Even if Your Santa Clara Home Has Multiple Code Violations, We'll Still Buy It From You. No Agents, No Commissions, No Repairs Needed. Our Offer Has No Obligations. See How Our Process Works Below!
In our line of business, we want to give homeowners another shot at living their best lives. If you're currently a homeowner or know a homeowner who is struggling with fixing their code violations or has any other problem with their home that they can't fix - let us know and we can help. We're here to provide another solution for Santa Clara homeowners who need to sell their homes.
Buying Your Home With Code Violations is Easy For Us!
Before you look to sell your home with code violations with a realtor, you should be sure about what you give up. Any damage to your home will have to be credited from you onto the buyer's price, which means you lose money and you have to pay 6% of your final sale price to your realtors. That's a lot of money, the money you shouldn't need to pay.
Our mission is to help families all around Santa Clara by buying their homes. If you're currently embroiled in these situations, let us know:
Stop Spending Money on Agents Who Get You Nothing
Realtors have you sign a contract to work with them for a long time, while we can make an offer/buy your home in less than a month.
We're here to do the hard work so you and your family don't have to. We provide the best cash offers out of all the homebuyers in Santa Clara, and we do so for two reasons. One, to keep you happy, and two, so that we earn more business over time.
Selling Homes With Code Violations, We Make It Easy!
If you're scared about your home selling process and the time that goes into it, we're here to tell you that it's going to be okay. Here's the thing - if your home has no code violations, damage, and it has been renovated recently, we recommend that you sell with a realtor. If it has all of the above, we highly recommend that you work with us.

As the best local homebuyers in Santa Clara, we are here to help you and your family by buying your home - even if it has code violations. We are here to provide a service and standard that realtors simply don't have.

My name is Eugene Romberg, and I promise that my team and I will help you out of the situation you are currently facing. We implore that if you need help, you ask for it quickly.

Buying Your Home With One or More Code Violations
Your Santa Clara home may have code violations, but it doesn't mean you can't sell it. We want to offer you a great, all-cash offer for your Santa Clara home. You don't need to wait any longer, because we have the cash on hand to buy your property. No waiting for third parties, lenders, or banks to stop you and waste your time.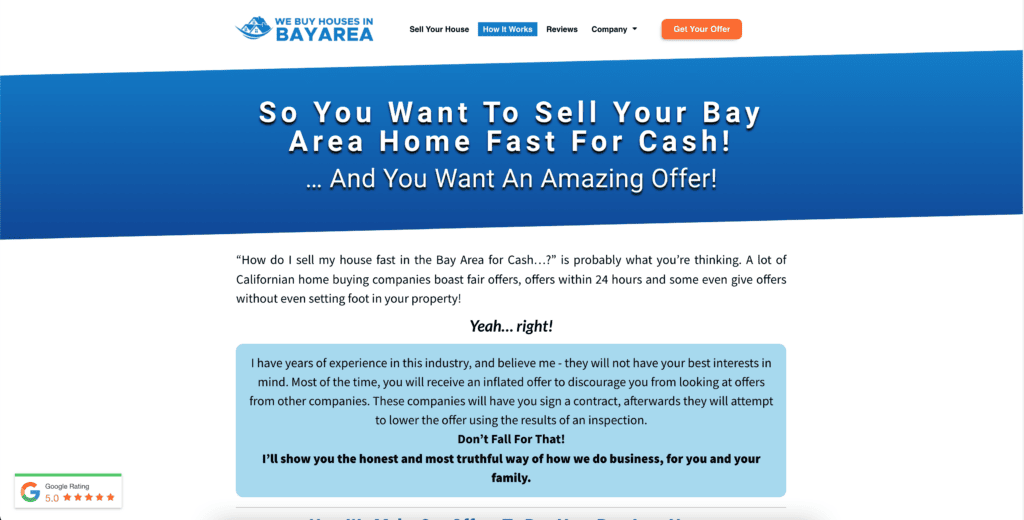 Take a look at how we calculate our offer for your home. Also, we have multiple examples of other offers we have made on houses in the past!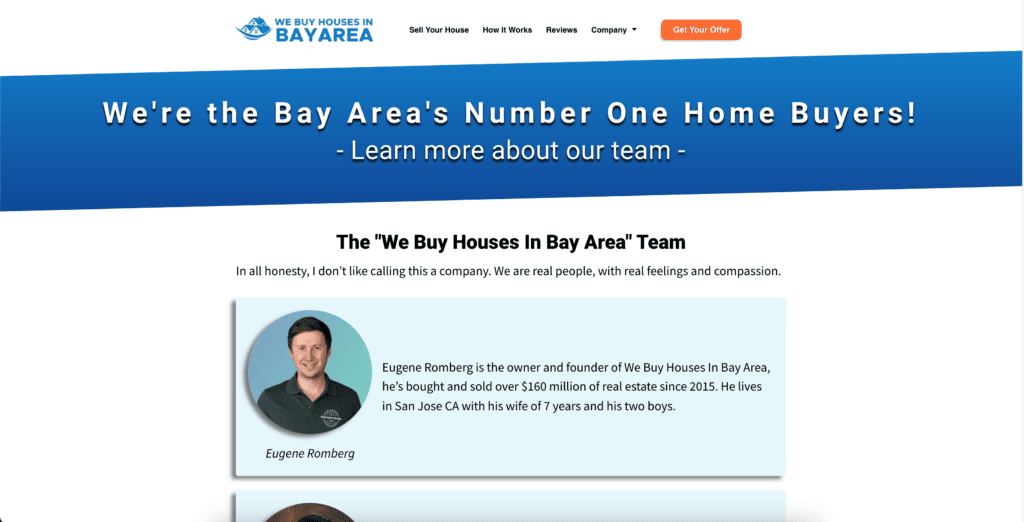 If you're curious about my team and me, take a gander at our biographies above!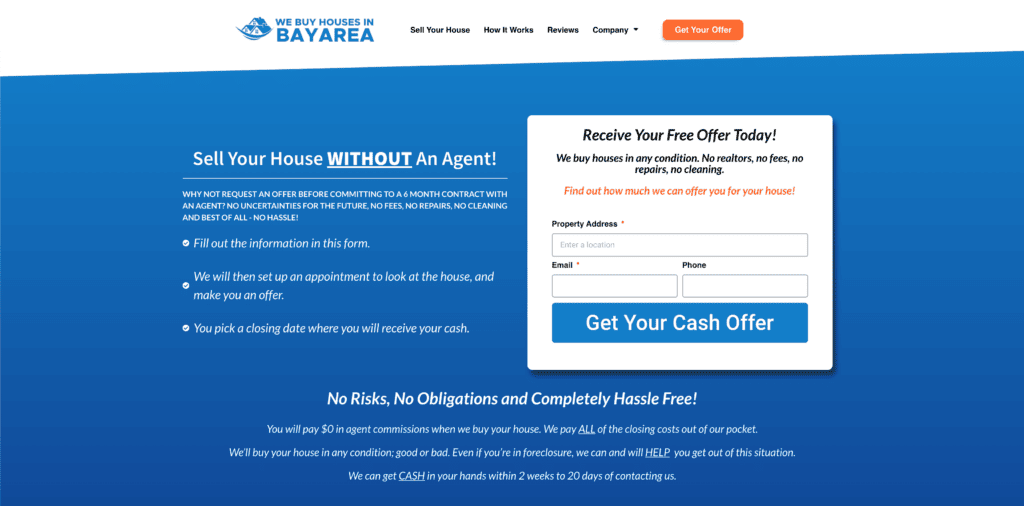 It's easy to know what to do when you're experienced like we are. The video above shows you how we help homeowners!
"I had so many code violations in my house I thought no one was going to buy it. Until Eugene came! Thank you so much E!"
~ And Don't Worry… My Team And I Got You Covered!
Learn More About How Much We Will Pay For Your Home With Code Violations
If your home needs repairs and renovations before you can sell it, we recommend reaching out to us first. Fixing damage can get very expensive, and if you need cash fast for whatever reason, we can buy your home from you immediately.
No More Worrying About Code Violations, You Can Relax Now
Our offers are based on your home's After Repair Value. We'll show you our calculations, so you can relax while we get it to you.
Don't be embarrassed, we'll buy homes no matter what they look like.


Ready to find out about your offer?
Let Us Buy Your Santa Clara House Before It's Too Late!
Don't be scared anymore. We are here to help you and your family in any way that we can. If you're in a bad spot and need cash for your Santa Clara home, we'll work on your case immediately. It doesn't matter if your home needs repairs or has code violations. We'll still buy it from you, with the best all-cash offer in the entire Santa Clara. So don't stress yourself out, we got it.

We don't just do this to buy your home, we do this to help homeowners, people, and friends. If we can get you out of a hard spot, it would be morally unethical if we didn't. We want to be honest and transparent with our process, so you and your family can understand how we help you. Our offer is made as a reflection of that, to help you and your family get back on your feet.
You don't have to worry about selling your home on time anymore. We buy homes fast, and with a great offer - with no surprises attached.
Sell your house to us and you won't even need to clean. We are not here to pass judgement, we are only here to help and make your selling experience exceed your expectations.

If you're here to beat your code violations, we'll be here for you until the job is finished. Homeowners have a card that they can play at any time, regardless of the condition of their Santa Clara home. As a homeowner, you can always sell your home to a property investor (like ourselves) and you won't have to deal with the taxes, commissions, and fees that come with selling your Santa Clara home traditionally. With us, you get nothing but cold, hard cash to defeat your code violations.
Simple And Efficient - The Best Way To Sell Your Santa Clara Home With Code Violations!
If you leave your code violations unfixed, your city could potentially fine you for $500 every day until you get legal documentation that it has been repaired. Five big bills is a lot of money, especially for someone who has a family. Rather than pay that continually and have no options, we can buy your home from you - with zero commissions and the best offer possible!
We have bought homes from all over the Bay Area from homeowners just like you. We have bought houses in all cash in San Jose, CA and we have purchased properties in San Francisco, CA, to name a few.
It doesn't matter where in the Bay Area you have a house for sale. Whether you want cash for your house in Palo Alto, CA or if you want a cash offer for your home in Richmond, CA we will purchase it!
100% FREE! We Don't Charge A Thing!
The Best Home Buyers In All of Santa Clara!
If you're in the market to sell your Santa Clara home, but your home currently isn't in market shape - then let us buy it from you with an all-cash offer. Fill out your information above or below!