Begin To Sell Your Home with Code Violations
in the Bay Area With Us Today!
Code Violations and Buying Santa Clara County Homes
We Have Cash In Hand - Ready To Buy Your Santa Clara County Home With Code Violations. We Want To Give An Alternative Solution to Selling and Buying Homes. For Us, Helping A Homeowner is Paramount, And We're Here to Give You A Large Cash Offer For Your Home!
"We Buy Houses In Santa Clara County", is a strictly no-nonsense home buying company that offers cash for houses in Santa Clara County CA. If you're looking to sell your home with multiple code violations quickly for cash, we're the best local home buyers in Santa Clara County, and we are more than serious about buying your home. Best of all - No agents, no inspections, no repairs, no fees, and no commissions necessary.
Code Violations Don't Scare Us. We Can and Will Still Buy Your Home!
It's always a hard process to sell a home. If it was easy, we wouldn't need realtors! The thing is - we're here to make sure that your experience is the best that it could possibly be. We work upfront to bring you the cash you seek, by immediately buying your home. With us, you don't need to worry about closing costs or commissions.
Don't worry, we have helped dozens of families across Santa Clara County, even if they had:
You Don't Need To Pay An Agent To Sell Your Home AnyMore
Our offers can be made in less than a day if needed. Help yourself by requesting an offer before you commit to a long contract with a realtor.
We are the most reliable and the most honest local homebuyer that you will ever meet in Northern California. We're not in this business to waste anyone's time, and that is why we are dedicated to getting you the best possible offer. Our offer is 100% obligation-free as well.
The Future Of Selling Homes With Code Violations
We know that selling a home with one or multiple code violations is going to be hard. Trust us, we've bought a lot of them. Dealing with those repairs, and the uncertainties of selling your home on time is just the beginning of the work you will have to endure. You're going to be over your heads in dealing with paperwork and agents.

In our time as the best home buyers in Santa Clara County, we have learned that by working directly with homeowners, we can create the best offers. That is why we take into account your entire situation and build a plan to help you - with the biggest and best offer possible.

My name is Eugene, and I'm a home buying professional who has seen it all in this business. If you need help with your current financial situation, give me a ring, and let's get acquainted.

Making It Easy To Sell Your Home With Code Violations
Because we have our own cash and capital, we can purchase homes quickly and easily from many homeowners all across Santa Clara County. Even if your home has code violations, we can buy it from you and close immediately. We have our own money, so we don't need to rely on third parties to buy your home.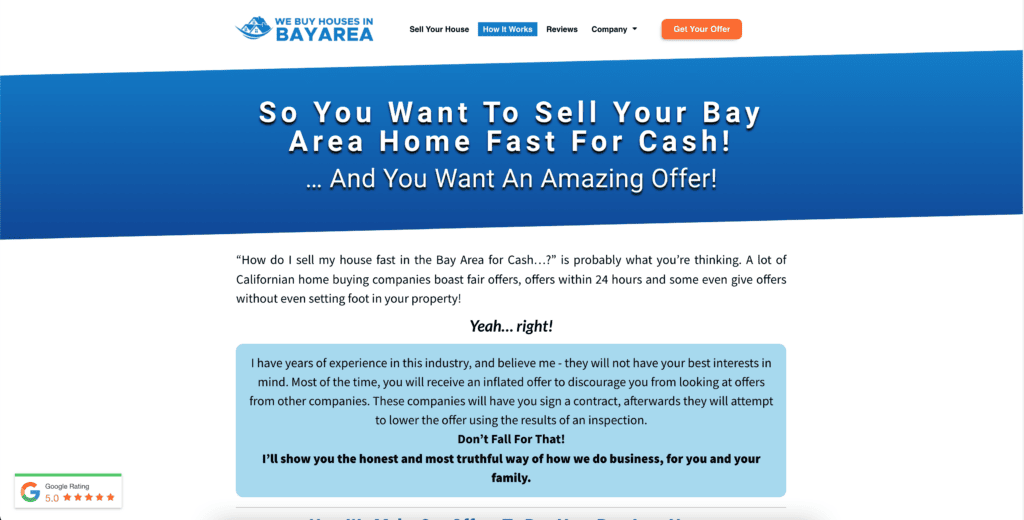 How we get the pricing for your offer is detailed on the page above!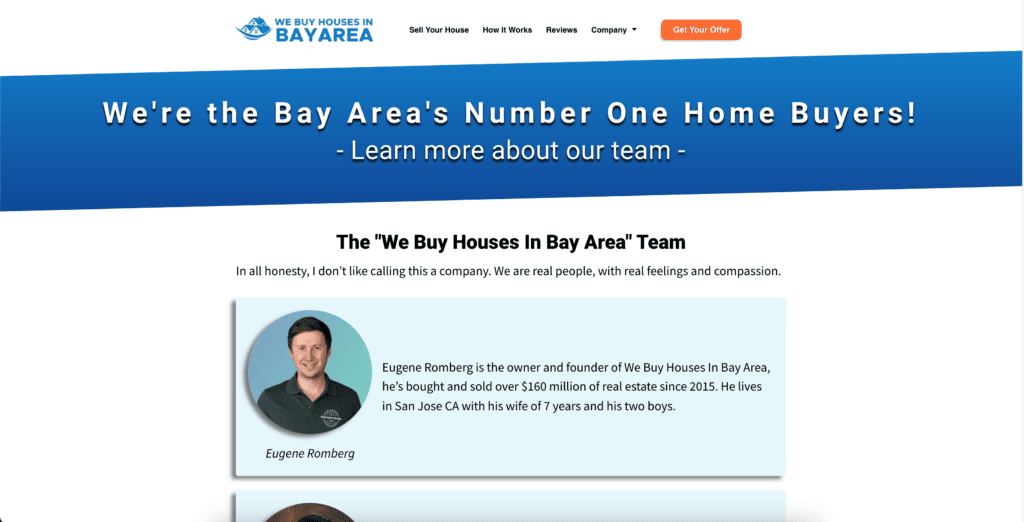 We have nothing to hide, learn more about this amazing company and all the wonderful people in it.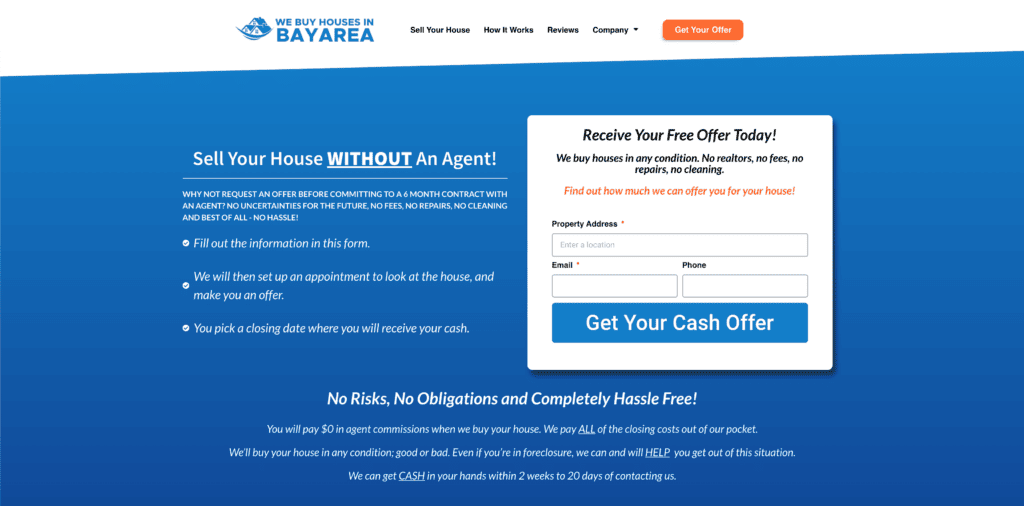 We want to help the community any way we can. That's why I have made a couple of videos (like the one above) to show you what we do, and how we conduct business.
"I thought it was easy to sell a home in Santa Clara County, but it's hard with real estate agents. If your home isn't in good shape, you have to get it into shape if you want the most for it. I just wanted to move somewhere with better living expenses, so I sold my home for cash."
~ And Don't Worry… My Team And I Got You Covered!
We Want To Help You By Buying Your Santa Clara County Home For Cash!
A no-obligation offer is waiting for you after you give us a call. We will be helping you every step of the way, and you can be sure of it. Unlike realtors, we get things done quickly and we pay you ourselves. You don't have to wait for buyers when we can buy your home directly from you.
You Don't Need To Worry About Code Violations Anymore, We're Here Now
Let us do all the hard math for you. Just know that your After Repair Value determines the amount of cash you will get in your offer.
We're here to buy houses as-is. No more agents, fees, or repairs.


All we want to do is make a no-obligation offer for your home!
Quickly Buying Your Santa Clara County Home Without Hassle!
If you're currently stressed out about selling your home, don't worry - we're here to help! Just know that we don't care about how much damage or how many code violations your home has. All we care about is its true value, and how we can use it to help you. We can and will show you an offer for your home, that will help out and then some. From there, all you need to do is kick back and relax.

The most fun part of our process is getting to know one another. We can share in our joys, our problems, and how we can help you. We want to create relationships with our clients to advise them, and to bring a solution that best fits their situation. Once we have done our research, we can create an offer for you that will suit your needs and then some.
Control fate, and get yourself out of that difficult situation you're currently in! We want to help you with a great cash offer, so don't be shy - call us!
Sell your house to us and you won't even need to clean. We are not here to pass judgement, we are only here to help and make your selling experience exceed your expectations.

We know how hard it is to get back on your feet after a couple of bad days, months, or even years. That's why I built this company. We want to be the heroes of your story, and to help you - even if your home has damages, code violations, tax liens, or anything else. We don't care about that. What we care about, is you and your family. We want to get you out of harm's way. In doing so, we'll be giving you cold, hard cash for your Santa Clara County home, without any stress or hassle.
Quick and Easy - Selling Your Santa Clara County Home With Code Violations!
In my experience, if you have a great home in great condition, you should sell it with a realtor. If you don't have the luxury of a home in great condition (and you can't afford to fix it) you should reach out to a home buyer, like us. We don't hassle or stress you with our process, and you deal directly with us and no other buyers.
We have bought homes from all over the Bay Area from homeowners just like you. We have bought houses in all cash in San Jose, CA and we have purchased properties in San Francisco, CA, to name a few.
It doesn't matter where in the Bay Area you have a house for sale. Whether you want cash for your house in Palo Alto, CA or if you want a cash offer for your home in Richmond, CA we will purchase it!
You Don't Have To Accept Our Offer! We Have No Obligations!
The Number 1 Real Estate Investing Company
Lay your head to rest, because we're here to buy your Santa Clara County home with an all-cash offer. We're the best in all of Northern California, and you'll see why soon.