Begin To Sell Your Home with Code Violations
in the Bay Area With Us Today!
It Isn't Hard to Buy A Home With Code Violations in San Mateo County
It Comes With No Surprise That Selling A San Mateo County Home With Code Violations Can Be Hard. That's Why We're Here To Make it Easy on You and Your Family. For Us, Buying Your San Mateo County Home With Code Violations is Easy, and We Want To Help You in any Anyway We Can.
We started "We Buy Houses In San Mateo County" because of all the distraught and underrepresented homeowners out there. If your home has code violations and damages all around it, and you don't have enough money to fix it - you could be losing a lot of money by selling your San Mateo County home with a realtor. Instead of working with a realtor, you can work with a local home buyer like us, who will buy your home regardless of its condition!
We Will Still Buy Your Home, Even With More than One Code Violation!
If you're planning to sell your home and it has damage inside of it, you have two options. One, you can fix those damages, and have it renovated so you can sell your home for maximum profit. But what if you don't have enough money for those renovations and repairs? Well, then you call us. We can buy your home directly from you with cold, hard cash.
Don't worry, we have helped dozens of families across San Mateo County, even if they had:
We're An Alternative Solution to Real Estate Agents
Realtors have you sign a contract to work with them for a long time, while we can make an offer/buy your home in less than a month.
We understand that it can get a bit worrisome when you have a home that realtors can't sell. However, it doesn't mean that it cannot be sold. We buy homes that realtors can't sell to help homeowners who are in dire need. If you need help, reach out to us immediately.
House Selling, Without a Fuss, Without Stress Even With Code Violations
If you're worried about selling your home with multiple code violations, we're glad you're here. It's going to cost you much more time and effort if you work with a realtor. Between all the walkthroughs and open houses you might have, and giving a credit to your potential buyers, you're going to be losing a lot of money and time.

It's not out of our wheelhouse to buy a home with code violations. We specialize in giving families a second chance, to create a life worth living. We wanted to create another avenue of selling one's home, one in which it doesn't matter if you have damages or code violations.

My name is Eugene Romberg, and not only am I in the home buying business, but I'm also in the second chance-making business too. So if you need help, give me a chance to assist you.

Selling A Home with Code Violations Is Easy!
Having cash on hand is important for our business because it allows us to buy your San Mateo County home with code violations quickly. We don't need or have to wait for banks, lenders, or third parties before we buy your home. All we need to do is have a simple walkthrough, and we can create an offer for your home within 48 hours.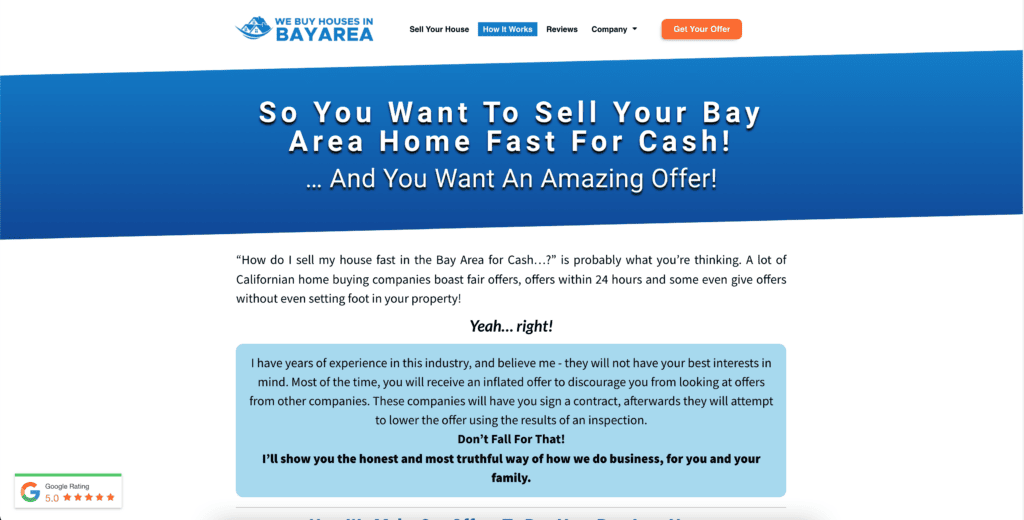 Take a look at how we calculate our offer for your home. Also, we have multiple examples of other offers we have made on houses in the past!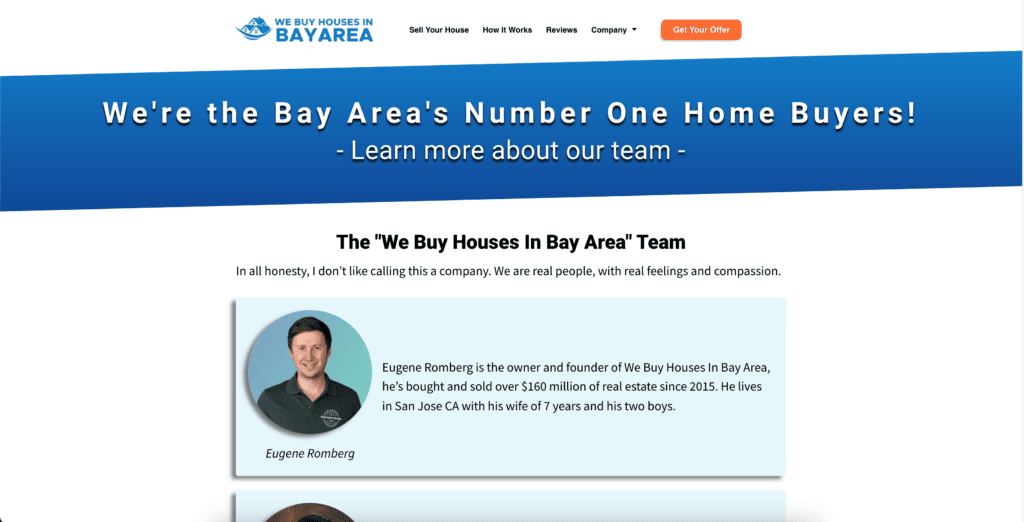 If you're curious about my team and me, take a gander at our biographies above!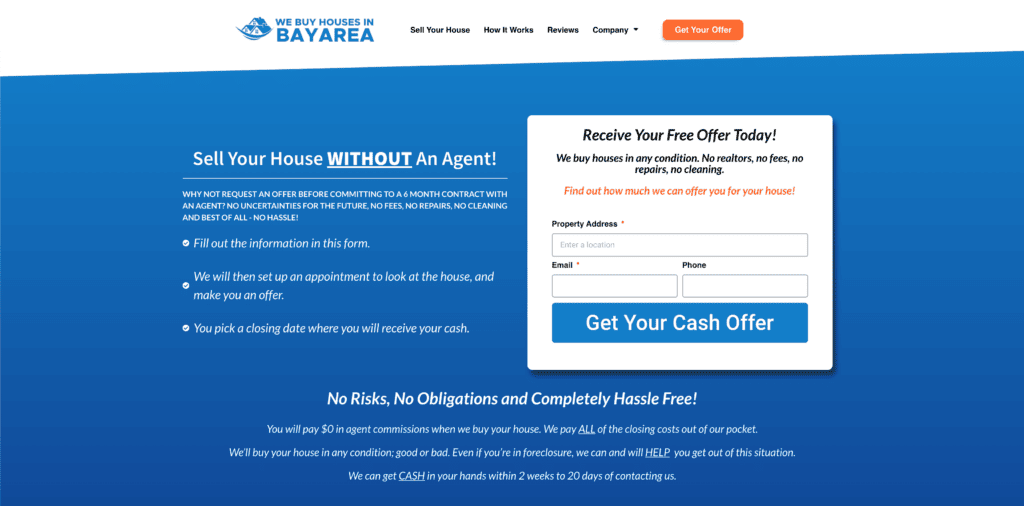 If you want to know how I sound, and how we buy homes, click the video above us.
"If it wasn't for Eugene and his team, I don't know what we would have done. He bought our house fast and made sure we were taken care of every step of the way."
~ And Don't Worry… My Team And I Got You Covered!
We Can Pay A Great Sum For Your San Mateo County Home Even If You Have Code Violations!
If your home needs repairs and renovations before you can sell it, we recommend reaching out to us first. Fixing damage can get very expensive, and if you need cash fast for whatever reason, we can buy your home from you immediately.
Either Way, You'll Be Stress-Free If You Sell Your Home With Code Violations
Let us do all the hard math for you. Just know that your After Repair Value determines the amount of cash you will get in your offer.
Zero repairs needed, zero renovations needed! We'll buy your house right now, as it stands!


Take a look and see how much we can offer you!
A Great Offer For Your San Mateo County Property
The hardest part of selling your home is finding the right buyer, because every home has value, physically or sentimentally. We're here to give you that value in straight cash, and to help you with your next stage in life. It doesn't matter if your home has one or more code violations, we don't care about damage or the condition of your San Mateo County home. It's all about helping you out if we can.

We will begin everything once we understand more about your situation, and how we can help. Once we understand what is ailing your home and your life, we will create a plan of how much we will purchase your home for, and when it can all take place. Like we've said before, we're able to close in less than 2 weeks if needed.
When will we buy your home? Soon. How much will your home be bought for? A lot.
Sell your house to us and you won't even need to clean. We are not here to pass judgement, we are only here to help and make your selling experience exceed your expectations.

The best part about working with homeowners is seeing the look on their faces when we've helped them out of a bad situation. It could be from a hoarding house, a foreclosure, or simply not having enough money to move forward - when we say we can get you out of a hard place, we mean it. For us, it's all about creating a gameplan to get you out, while giving actionable steps that are easy to follow. Once everything has cleared, all you need to do is count your cash, and move on with your life.
The Best Service to Buy Your San Mateo County Property With Code Violations!
If you leave your code violations unfixed, your city could potentially fine you for $500 every day until you get legal documentation that it has been repaired. Five big bills is a lot of money, especially for someone who has a family. Rather than pay that continually and have no options, we can buy your home from you - with zero commissions and the best offer possible!
We have bought homes from all over the Bay Area from homeowners just like you. We have bought houses in all cash in San Jose, CA and we have purchased properties in San Francisco, CA, to name a few.
It doesn't matter where in the Bay Area you have a house for sale. Whether you want cash for your house in Palo Alto, CA or if you want a cash offer for your home in Richmond, CA we will purchase it!
Don't Worry, We Do All The Work!
Without A DOUBT, The Easiest Way To Sell Your San Mateo County Home
It takes a lot of time to sell a San Mateo County home the traditional way. If you and your family don't have enough time, let us buy your home quickly and with an all-cash offer!