Begin To Sell Your Home with Code Violations
in the Bay Area With Us Today!
Code Violations and Buying Pleasanton Homes
Many Realtors Are Afraid of Selling A Home With One or More Code Violations, For Us - It Serves as A Starting Point to Help You. We Aren't Afraid, We're Here to Simply Give You The Best Offer Possible for Your Pleasanton Home!
We have the reputation of being the best local homebuyers in the entirety of Pleasanton. When we started this business, we found that many homeowners around Northern California couldn't sell their homes because of damages and code violations. If you don't have the money to fix them, you would be taking a tremendous loss. For us, we will still buy your Pleasanton home even if it has multiple code violations - because we can buy your home with all cash, something realtors can't do.
We Can Buy Your Home No Matter How Many Code Violations You Have!
Selling a home will always be hard. If you need repairs done or if you have code violations - it will be even harder. If you work with a realtor. We buy houses with cash to make the experience more enjoyable for homeowners, and allow them to move on, even if their home needs work. You won't be paying any commissions and you won't have any fees either.
We've purchased tons of homes all over Pleasanton, for all sorts of reasons:
Don't Waste Another Dollar or Minute of Your Time With Agents
If you're curious about working with us, give us a call or contact us! Get your bases loaded before you start working with a real estate agent.
We have humble beginnings, and we have dealt with a lot to get to where we are today. We learned that through honesty and hard work, we can make dreams happen - for us, and the homeowners we work with. That's why we have zero obligations with our offer, if you love it, great - if you don't, let's work on it together.
An Alternative Solution To Selling Your Home Code Violations
It can get pretty tiring when you deal with realtors and open houses. Walkthroughs upon walkthroughs, buyers upon buyers, and all the cleaning you're going to have to do. Continuing on that note, you have to understand that it takes anywhere from 3 to 6 months before your home sells on the traditional market - and that is without code violations.

It's not out of our wheelhouse to buy a home with code violations. We specialize in giving families a second chance, to create a life worth living. We wanted to create another avenue of selling one's home, one in which it doesn't matter if you have damages or code violations.

If you need help, make sure you ask for me first. My name is Eugene Romberg, and I want to give you and your family a second chance.

Selling A Home with Code Violations Is Easy!
One of the biggest benefits of being the best home buyer in Pleasanton is that we can buy your Pleasanton home from you (even if it has code violations) because we have our own cash and capital. Rather than waiting on third parties and lenders like most local home buyers do - we can count on our own cash to buy your home.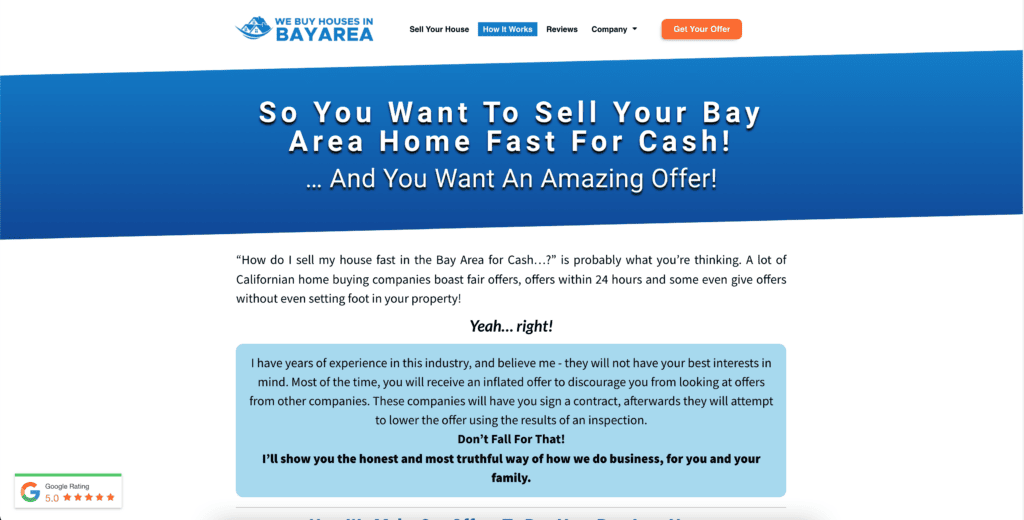 Our offer pricing is broken down on the link above, and within that page, you will also see other offers we have made on other homes.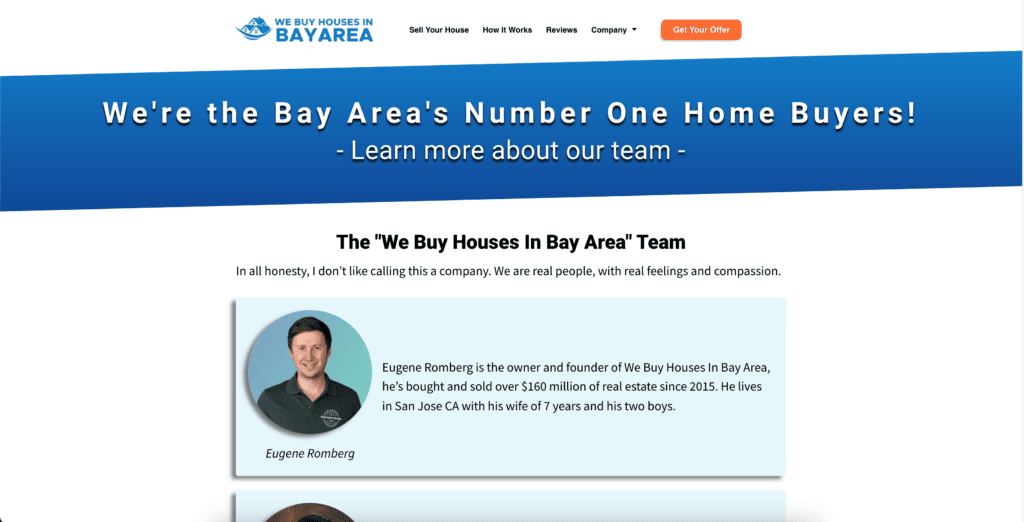 We're here for you, and if you'd like to know what we look like beforehand - click the link above to learn more about us!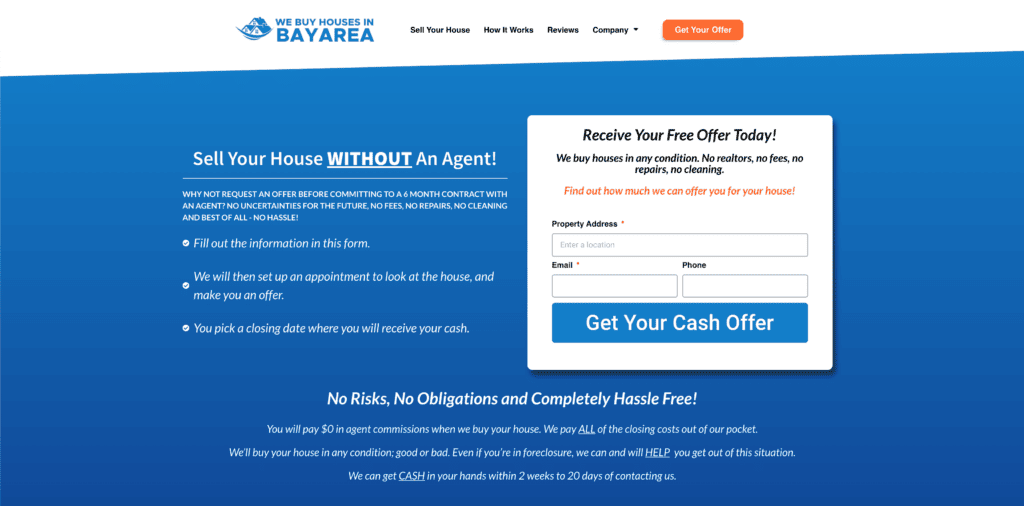 If you want to know how I sound, and how we buy homes, click the video above us.
"We had all sorts of issues with the home that was worse now after the years of neglect. We needed to sell the home to pay for our medical bills and to downsize, but no one wanted to buy it for a year. Eugene and his people came by to help, and they got us everything we needed and more. Thank you so much."
~ And Don't Worry… My Team And I Got You Covered!
Don't Be Worried. We'll Still Pay A Hefty Price For Your Pleasanton Home!
A no-obligation offer is waiting for you after you give us a call. We will be helping you every step of the way, and you can be sure of it. Unlike realtors, we get things done quickly and we pay you ourselves. You don't have to wait for buyers when we can buy your home directly from you.
We Want To Buy Your Home, So You Don't Stress About Code Violations Any Longer
Your home will always be valuable, and it's After Repair Value ascertains what our offer to you will be.
Zero repairs needed, zero renovations needed! We'll buy your house right now, as it stands!


Want to see how much we can offer for your home?
We Have The Best Offer For Your Pleasanton Home
Code violations and an immense amount of damage can cause many homeowners stress and headache. The sheer cost of repairing everything might not even be beneficial to you. If you need to sell your Pleasanton home immediately for cash, we have the solution. We create offers based on your home's After Repair Value, and from there - we can buy it from you with straight cash.

It's all about first impressions. We want you to see and understand that we are honest, hard-working people who just want to help homeowners in need. We'll show you how we do business, and how we create your offer. From there, all we need to discuss is how you want your cash, either by wire transfer or check. You don't even need to clean your home either before we buy it!
It's hard to see the light when you're covered in darkness. Let us help you, with a golden offer that will make you and your family happy.
Sell your house to us and you won't even need to clean. We are not here to pass judgement, we are only here to help and make your selling experience exceed your expectations.

The best part about working with homeowners is seeing the look on their faces when we've helped them out of a bad situation. It could be from a hoarding house, a foreclosure, or simply not having enough money to move forward - when we say we can get you out of a hard place, we mean it. For us, it's all about creating a gameplan to get you out, while giving actionable steps that are easy to follow. Once everything has cleared, all you need to do is count your cash, and move on with your life.
We Want To Make Beating Code Violations in Pleasanton Easy!
We know of many horror stories of homeowners who have left code violations go unchecked, and we don't want you to become one of them. If you don't have the money to fix your code violations and you need to sell your home, don't work with a realtor. Instead, work with a team of people who will buy your home for cash.
We have bought homes from all over the Bay Area from homeowners just like you. We have bought houses in all cash in San Jose, CA and we have purchased properties in San Francisco, CA, to name a few.
It doesn't matter where in the Bay Area you have a house for sale. Whether you want cash for your house in Palo Alto, CA or if you want a cash offer for your home in Richmond, CA we will purchase it!
Everything is 100% FREE. No Obligation to Accept.
It should come without saying, we are the BEST at buying Pleasanton homes.
Time is something you can always spend but never get back. So if you need to sell your house in Pleasanton quickly to start a new life - we'll be here to help.