Begin To Sell Your Home with Code Violations
in the Bay Area With Us Today!
Code Violations Won't Stop Us from Buying Your Millbrae Home
Sell Your Home in Millbrae, California With Code Violations, and Make More Money! No Agent Fees, No Repairs - 100% FREE! Here's How Our Home Buying Process Works!
If you're amongst the many homeowners who can't sell their homes because of damages or code violations - you have come to the right place. "We Buy Houses in Millbrae" was created to help homeowners who didn't have the capital necessary to fix and amend their homes before selling them. Rather than going through all the hoops of working with a realtor, help yourself and your family by working with us. We provide cash for Millbrae homes quickly and easily.
Repairs or Code Violations Don't Scare Us. We'll Still Buy Your Home!
In this day and age, many homeowners are struggling with selling their homes because of damages that have been incurred over the years. If you don't have the time or the money to deal with repairing your home before selling it, let us help. We want to buy homes from homeowners who don't have anywhere else to sell their homes. As an added plus, we don't have any closing costs, commissions, or fees."
There are many reasons why someone needs to sell a home, but there is only one reason why we buy them, to help you with:
We're An Alternative Solution to Real Estate Agents
We're friends with real estate agents, but they do make you work with them for quite a while before they sell your home. With us, you can get an offer immediately - without any lag.
One of the easiest ways for you to sell your home is to work with honest and loyal local homebuyers, like us! We have developed a system for homeowners to sell their homes without dealing with all the stress and fees that come with selling with a realtor. Save yourself the money, and work with homebuyers who can give you cash immediately.
The Future Of Selling Homes With Code Violations
We know that selling a home with one or multiple code violations is going to be hard. Trust us, we've bought a lot of them. Dealing with those repairs, and the uncertainties of selling your home on time is just the beginning of the work you will have to endure. You're going to be over your heads in dealing with paperwork and agents.

It's more about helping the community for us than anything else. When we can help families move on and sell their homes with code violations in them, we give them a second chance. We believe you deserve one too. So if you need help, contact us immediately.

My name is Eugene Romberg, and I want to set expectations high, and bust through them even further! I'm here to help whenever you need me!

Selling My House With Code Violations - Made Easy!
If you're looking for the best all-cash buyers of Millbrae homes, we are right in front of you. We can purchase homes with code violations because we have all the cash and capital necessary - right in our own pockets. Cash is king in our industry, and we don't need to rely on third parties or lenders in order to buy your home.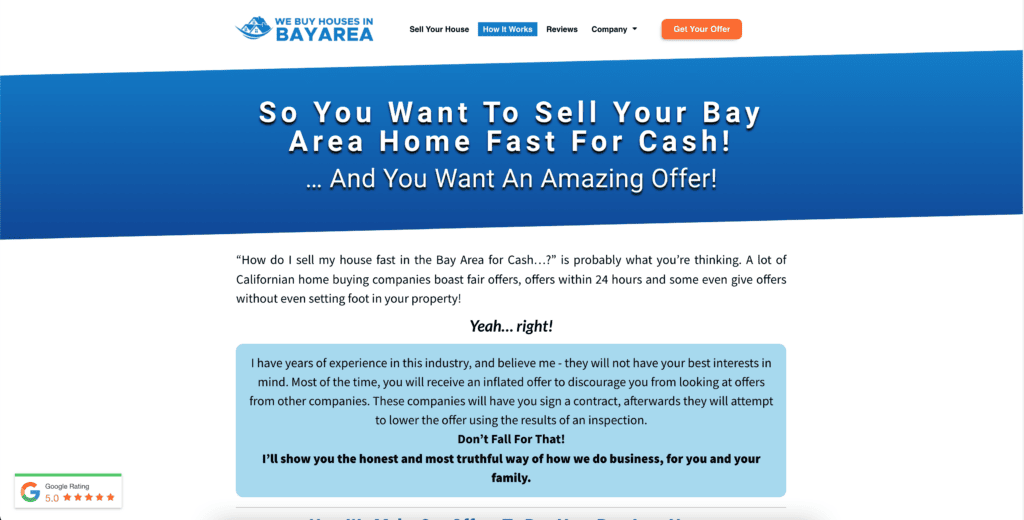 It's all about the numbers. Learn more about your offer and past offers with the link above!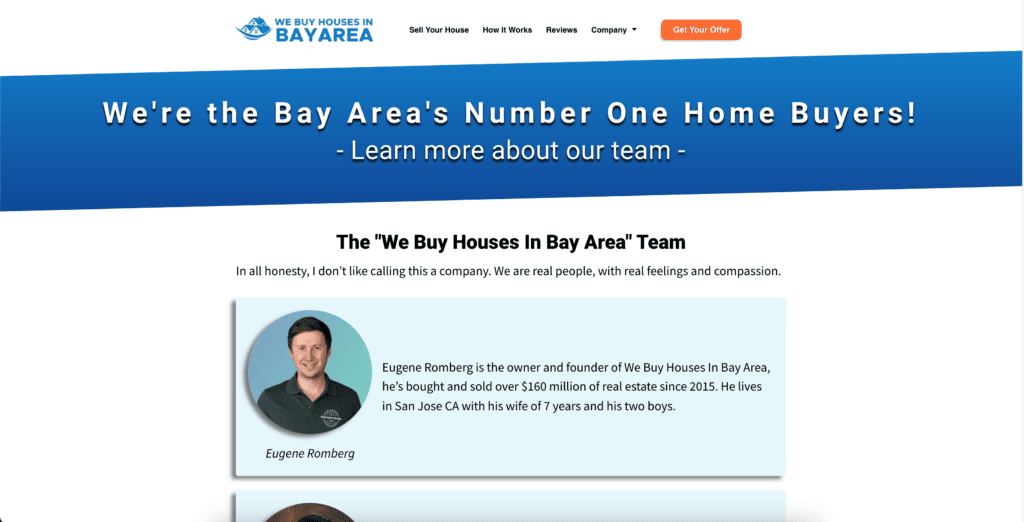 We don't have anything to hide. Learn about my team and what we do well! You'll learn about my humble beginnings and my team's spirit.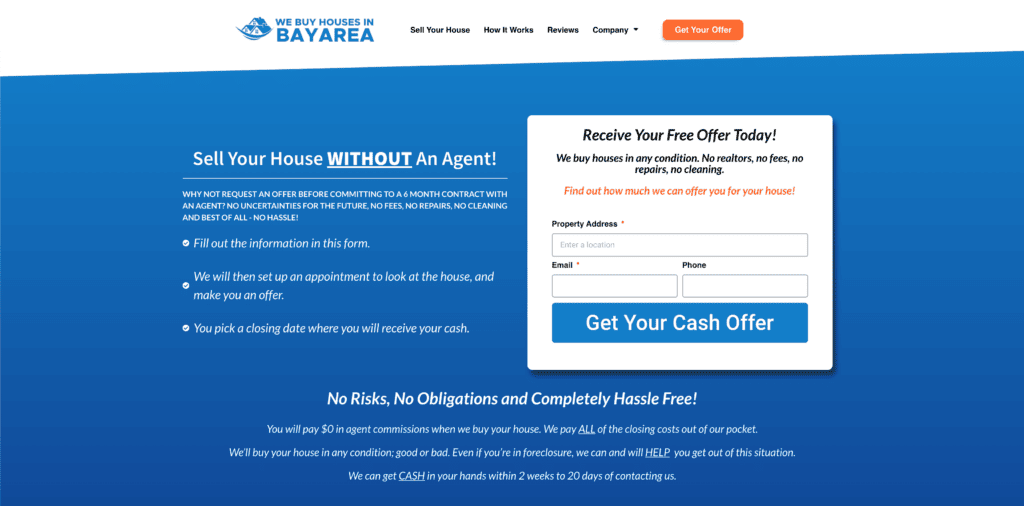 If you'd like to learn more about what we do, and some of our reviews, click on the video above!
"I thought it was easy to sell a home in Millbrae, but it's hard with real estate agents. If your home isn't in good shape, you have to get it into shape if you want the most for it. I just wanted to move somewhere with better living expenses, so I sold my home for cash."
~ And Don't Worry… My Team And I Got You Covered!
Learn About How We Will Buy Your Millbrae Home With Cash!
Selling a home with immense damage with a realtor is next to impossible to do unless you give up a great portion of what your house is worth. With us, we pay you the best offer possible, while taking into consideration your home's ultimate value. And we pay cash, and we can pay soon.
Sell Your Home With Code Violations to Us and Be Free From Stress
Your home's After Repair Value determines our offer, so sit back and relax while we show you the numbers.
Cash Money For Your Home!
With zero fees and commissions, that's how we buy houses.


We're waiting on your signal to make an offer
The Best Offer And Process to Buy Your Millbrae Home
If you're in trouble with your finances, and the current state of your home - don't be afraid to reach out to us. We'll buy your Millbrae home in a flash, and you can say goodbye to those code violations. No more impending doom, just sunshine, and rainbows. We don't charge you a single cent for our offer, and you have no obligations to it either.

It all begins with a simple conversation. The moment you reach out to us for help, we'll be there for you. It starts with an honest and transparent process, in which we have a walkthrough of your home and then makes an offer. We will explain how we got the number you see, and how our process will work. Once you understand everything, then we will send you your money via wire transfer or check.
If you're dreaming about the day your home sells, wake up. We're here to make that dream into a reality with cold, hard cash in your hands!
Keep Your Home the Way It Is!
If your home is out of order on the inside and you're scared that that won't allow us to buy it, don't fret. As we have said earlier, we buy homes in all conditions, which means that we don't care about the mess inside. Keep all the items that you want when you move, and leave everything else for us to clean up.

Sell your house to us and you won't even need to clean. We are not here to pass judgement, we are only here to help and make your selling experience exceed your expectations.

We are not here to judge you. We want to be here to help and nurture you, by buying your Millbrae home. With enough capital, you can do anything to change your life, and we want to be here to start it all with you. We don't care if your home has code violations, damage, tax liens, or anything else - we just want to be here to give you cold, hard cash for your home. In the end, it's all about making sure that you and your family are taken care of.
The Best Service to Buy Your Millbrae Property With Code Violations!
If you need help selling your home and you're sick and tired of working with realtors, we'd like to throw our hat into the ring. As local home buyers, we can buy Millbrae homes with our own cash, at a time that works best for you. Best of all, we will buy your home in any condition - even if it has code violations.
We have bought homes from all over the Bay Area from homeowners just like you. We have bought houses in all cash in San Jose, CA and we have purchased properties in San Francisco, CA, to name a few.
It doesn't matter where in the Bay Area you have a house for sale. Whether you want cash for your house in Palo Alto, CA or if you want a cash offer for your home in Richmond, CA we will purchase it!
Your Offer Has ZERO Obligations!
The Absolute BEST Way To Sell Your Home in Millbrae
You might be in many bad situations, but we'll be here to help. We are flexible, and we can offer straight cash for your Millbrae home fast.