Begin To Sell Your Home with Code Violations
in the Bay Area With Us Today!
Buying Houses with Code Violations in Los Altos
If You Need To Absolutely Sell Your Los Altos Home, And You Have One or Multiple Code Violations - We Are Here to Help. We Buy Los Altos Homes in Any Condition, And We Don't Care About Code Violations, All We Care About Is Giving You Money for Your Home!
We were founded on the principles of helping those in need when we can, and helping homeowners get out of a tough situation if they are in one. If you or someone you know needs to desperately sell their Los Altos home for whatever reason, we will be there to help immediately. We can craft an offer in less than 48 hours, and you won't have to pay a cent in commissions or fees.
It Doesn't Matter How Many Code Violations Your Home Has!
It's always a hard process to sell a home. If it was easy, we wouldn't need realtors! The thing is - we're here to make sure that your experience is the best that it could possibly be. We work upfront to bring you the cash you seek, by immediately buying your home. With us, you don't need to worry about closing costs or commissions.
It's our job to buy houses in Los Altos, and we will still buy your property even if you have/are:
We Help Those Who Can't Sell Their House the Traditional Way
Simply get an offer from us, it's completely free! Do this before you commit to a long-term contract with an agent.
Our company is built on the pillars of honesty and transparency. We want to give you the best offer possible for your home. Not just for you, but your family as well. We're here to help, and we want to make sure that we can. That's why our offers have zero obligations. You have everything to gain, with no risk at all.
It's All About Selling Your Home Code Violations, Stress-Free ~
We have helped many homeowners through selling their homes with multiple code violations, so don't think that it is uncommon. What many homeowners don't understand is that if you try to sell a home with multiple code violations with a realtor, you're going to have to credit your buyers. Which means more money lost, and more time needed to sell your home.

My team and I are dedicated to making sure you and your family are taken care of. How we do this is by crafting an offer that you will love, and catering to your needs and wants. From there, let us do the heavy lifting, while you guys sit back and count your cash.

My name is Eugene, and in my time of being a professional home buyer, I just want to let you know that I'm here to help you until the very end.

We Want To Buy Your Home With Code Violations
Here at We Buy Houses in Los Altos, we don't waste time by sending low offers. We know that you know how much your home is actually worth. This is why we send out only the best possible offers for your Los Altos home with code violations. We know that you need cash fast for your home, and that's why we don't work with any third party to buy it.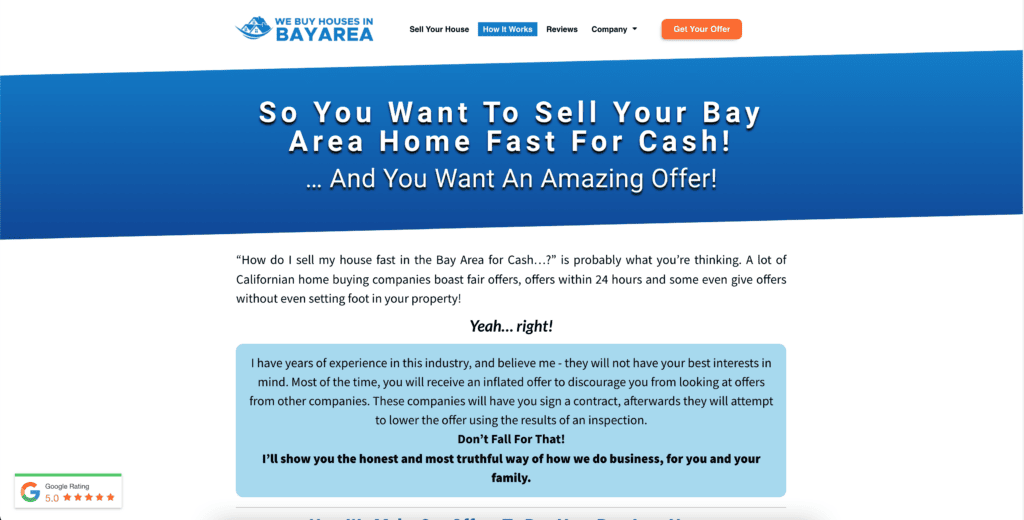 If you're curious about how we get to the number in our offer, click the link above!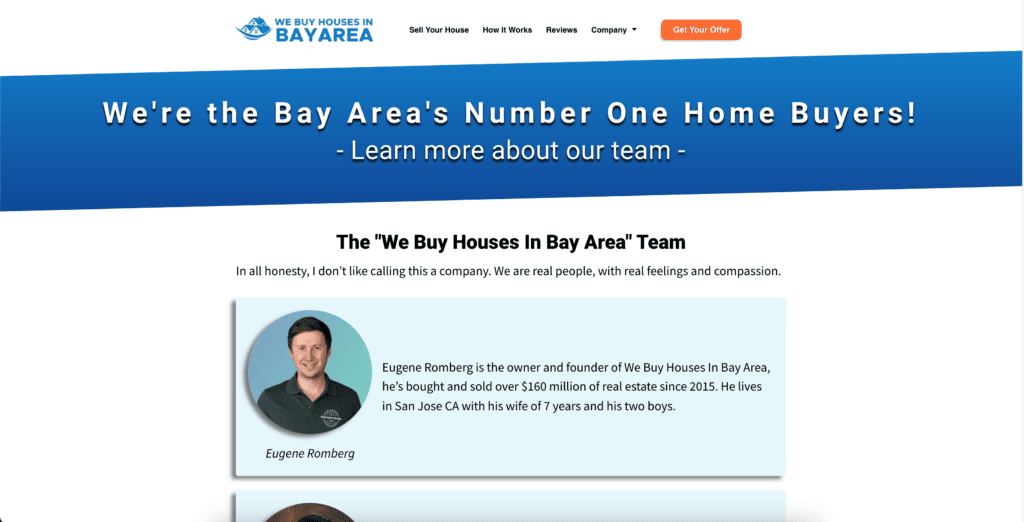 We don't have anything to hide. Learn about my team and what we do well! You'll learn about my humble beginnings and my team's spirit.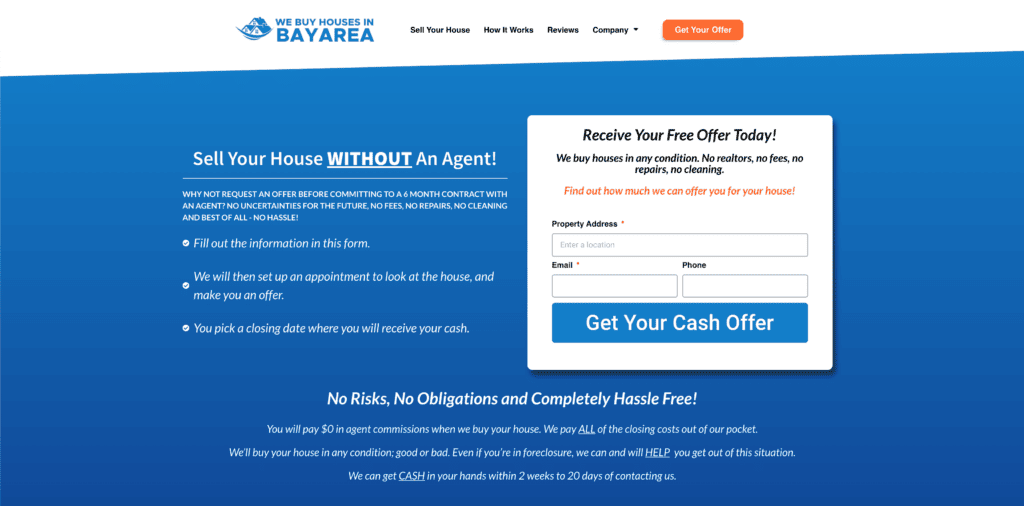 If you'd like to learn more about what we do, and some of our reviews, click on the video above!
"I thought it was easy to sell a home in Los Altos, but it's hard with real estate agents. If your home isn't in good shape, you have to get it into shape if you want the most for it. I just wanted to move somewhere with better living expenses, so I sold my home for cash."
~ And Don't Worry… My Team And I Got You Covered!
We Want To Help You By Buying Your Los Altos Home For Cash!
If your home needs repairs and renovations before you can sell it, we recommend reaching out to us first. Fixing damage can get very expensive, and if you need cash fast for whatever reason, we can buy your home from you immediately.
Sell Your Home With Code Violations to Us and Be Free From Stress
Your home will always be valuable, and it's After Repair Value ascertains what our offer to you will be.
We buy houses without commissions, fees, or agents - no charges, just cash.


Time is moving, learn more about your offer below!
The Best Offer And Process to Buy Your Los Altos Home
Once you work with us, all of your worries and headache will go away. The best part about being local home buyers is that we can buy your Los Altos home with cash immediately! In doing so, we don't care if your home has code violations or needs repairs. All that matters is helping you and your family, with a no-obligation cash offer! You have everything to gain, with nothing to lose.

We don't just do this to buy your home, we do this to help homeowners, people, and friends. If we can get you out of a hard spot, it would be morally unethical if we didn't. We want to be honest and transparent with our process, so you and your family can understand how we help you. Our offer is made as a reflection of that, to help you and your family get back on your feet.
It's hard to understand the workings of high finance, that's why we buy homes with all-cash!
Sell your house to us and you won't even need to clean. We are not here to pass judgement, we are only here to help and make your selling experience exceed your expectations.

It's more about helping you promptly, and understanding your situation than simply just buying your Los Altos home with cash. You see, we need to know if you're going through foreclosure if you have code violations, or anything else to know what your timeline is. Once we know how much time we have left to help you, we can begin our work quickly and get the job done efficiently. We want to help you when you need the help, not when you're SOL.
Fast And Effective - Sell Your Los Altos Home To Us Today!
Code violations can be quite a thorn on your side if you leave them unchecked. With that being said, we're pretty sure you've heard of the horror stories of certain realtors in Los Altos. Work with a local home buyer like my team and I - and we can guarantee you the best service, with the best offer possible.
We have bought homes from all over the Bay Area from homeowners just like you. We have bought houses in all cash in San Jose, CA and we have purchased properties in San Francisco, CA, to name a few.
It doesn't matter where in the Bay Area you have a house for sale. Whether you want cash for your house in Palo Alto, CA or if you want a cash offer for your home in Richmond, CA we will purchase it!
Easy, Stress-Free Home Selling!
The Best Home Buyers In All of Los Altos!
If you're going through a divorce or foreclosure, or anything negatively affecting your happiness, be assured that we will buy your Los Altos home with cold, hard cash.