Begin To Sell Your Home with Code Violations
in the Bay Area With Us Today!
Buying Hayward Homes with Multiple Code Violations
Sell Your Home in Hayward, California With Code Violations, and Make More Money! No Agent Fees, No Repairs - 100% FREE! Here's How Our Home Buying Process Works!
We started "We Buy Houses In Hayward" because of all the distraught and underrepresented homeowners out there. If your home has code violations and damages all around it, and you don't have enough money to fix it - you could be losing a lot of money by selling your Hayward home with a realtor. Instead of working with a realtor, you can work with a local home buyer like us, who will buy your home regardless of its condition!
Buying Your Home With Code Violations is Easy For Us!
Selling a home will always be hard. If you need repairs done or if you have code violations - it will be even harder. If you work with a realtor. We buy houses with cash to make the experience more enjoyable for homeowners, and allow them to move on, even if their home needs work. You won't be paying any commissions and you won't have any fees either.
Let us help you like how we've helped many others in Hayward, by helping families with issues regarding:
It's 2022, Stop Wasting Time With Realtors
If you're curious about working with us, give us a call or contact us! Get your bases loaded before you start working with a real estate agent.
We understand that it can get a bit worrisome when you have a home that realtors can't sell. However, it doesn't mean that it cannot be sold. We buy homes that realtors can't sell to help homeowners who are in dire need. If you need help, reach out to us immediately.
An Alternative Solution To Selling Your Home Code Violations
We understand that it can get pretty hectic when you begin to sell your home, especially when it has one or more code violations within it. Take our advice, the only time you should sell your home with a realtor is if you have the time and money to make repairs and renovations. If you don't have either, I think it would be best if we were to help you first.

It's not out of our wheelhouse to buy a home with code violations. We specialize in giving families a second chance, to create a life worth living. We wanted to create another avenue of selling one's home, one in which it doesn't matter if you have damages or code violations.

My name is Eugene, and I'm a home buying professional who has seen it all in this business. If you need help with your current financial situation, give me a ring, and let's get acquainted.

Making It Easy To Sell Your Home With Code Violations
Code violations never stopped us from buying a Hayward home, and it shouldn't stop you from selling your home either! What makes us different from other home buyers is that we have cash for your home already in hand. This means that the moment we give you an offer, we can close on your home immediately.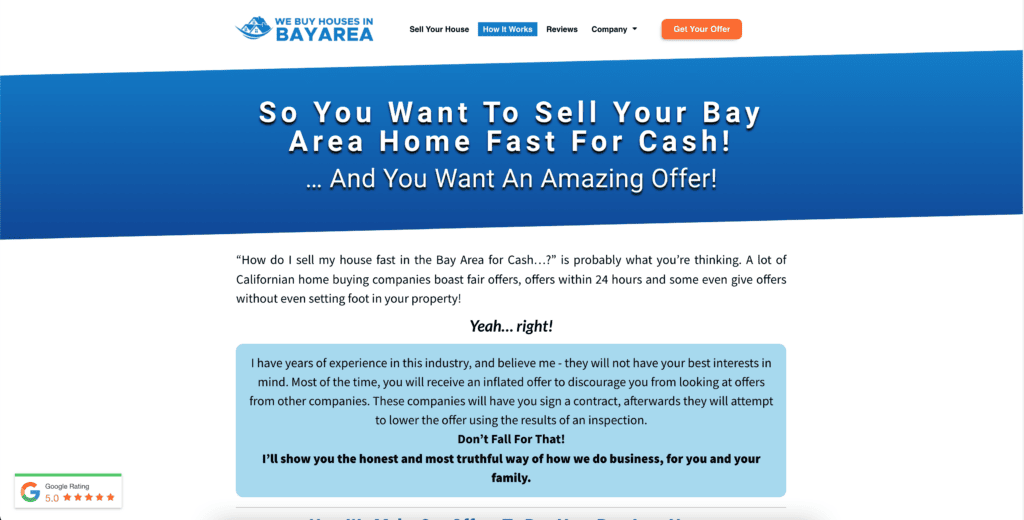 How we get the pricing for your offer is detailed on the page above!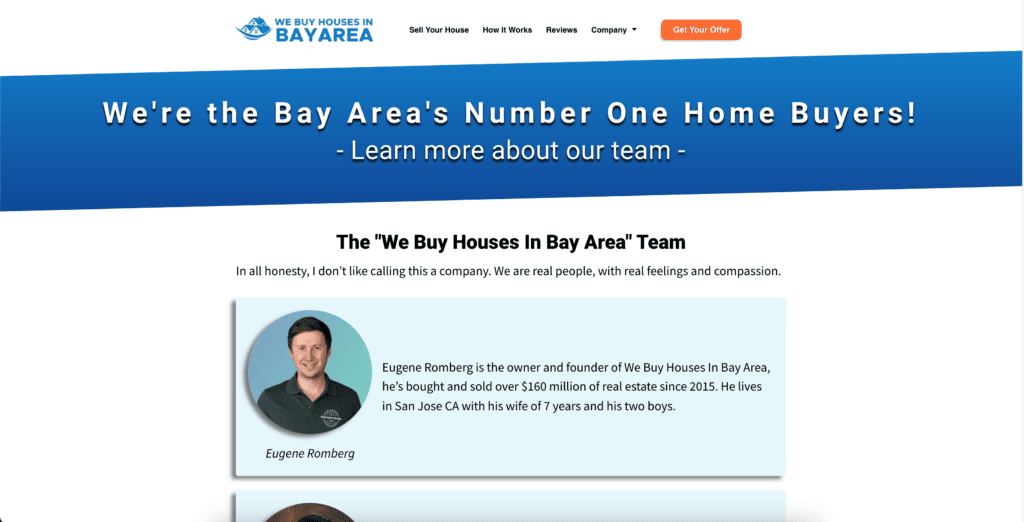 If you're curious about my team and me, take a gander at our biographies above!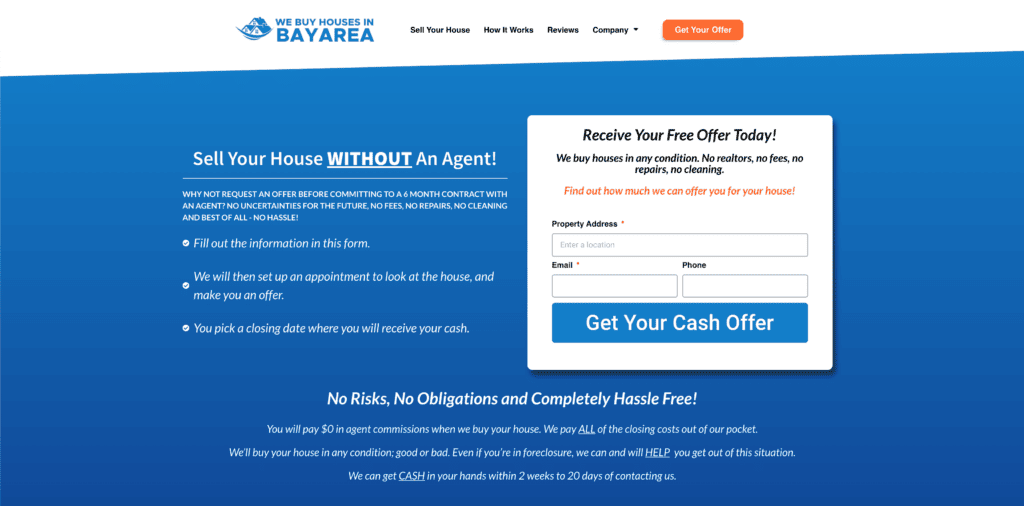 We want to help the community any way we can. That's why I have made a couple of videos (like the one above) to show you what we do, and how we conduct business.
"We had all sorts of issues with the home that was worse now after the years of neglect. We needed to sell the home to pay for our medical bills and to downsize, but no one wanted to buy it for a year. Eugene and his people came by to help, and they got us everything we needed and more. Thank you so much."
~ And Don't Worry… My Team And I Got You Covered!
Your Hayward Home Is Beautiful the Way It Is. That's Why We Want It For Top Dollar!
A no-obligation offer is waiting for you after you give us a call. We will be helping you every step of the way, and you can be sure of it. Unlike realtors, we get things done quickly and we pay you ourselves. You don't have to wait for buyers when we can buy your home directly from you.
No More Worrying About Code Violations, You Can Relax Now
Your home's After Repair Value determines our offer, so sit back and relax while we show you the numbers.
Don't be embarrassed, we'll buy homes no matter what they look like.


Want to see how much we can offer for your home?
Quickly Buying Your Hayward Home Without Hassle!
Once you work with us, all of your worries and headache will go away. The best part about being local home buyers is that we can buy your Hayward home with cash immediately! In doing so, we don't care if your home has code violations or needs repairs. All that matters is helping you and your family, with a no-obligation cash offer! You have everything to gain, with nothing to lose.

It all begins with a simple conversation. The moment you reach out to us for help, we'll be there for you. It starts with an honest and transparent process, in which we have a walkthrough of your home and then makes an offer. We will explain how we got the number you see, and how our process will work. Once you understand everything, then we will send you your money via wire transfer or check.
If you're dreaming about the day your home sells, wake up. We're here to make that dream into a reality with cold, hard cash in your hands!
We'll Handle The Cleaning, You Can Relax
If you're embarrassed about the condition of the inside of your home - don't worry about it. We're here to help in any way that we can, and we'll clean everything up for you. When you begin the moving process, simply take what you want or need, and leave everything else for us!

Sell your house to us and you won't even need to clean. We are not here to pass judgement, we are only here to help and make your selling experience exceed your expectations.

If you're worried about selling your Hayward home because of repairs, renovations, tax liens, code violations, or an impending foreclosure, working with a realtor might not be your best option. It takes on average 3 to 6 months to sell your home with a realtor, and that's if your home is in great condition. If your home isn't in great condition, and you need help immediately - let us know, and we can help.
The Best Service to Buy Your Hayward Property With Code Violations!
Code violations can be quite a thorn on your side if you leave them unchecked. With that being said, we're pretty sure you've heard of the horror stories of certain realtors in Hayward. Work with a local home buyer like my team and I - and we can guarantee you the best service, with the best offer possible.
We have bought homes from all over the Bay Area from homeowners just like you. We have bought houses in all cash in San Jose, CA and we have purchased properties in San Francisco, CA, to name a few.
It doesn't matter where in the Bay Area you have a house for sale. Whether you want cash for your house in Palo Alto, CA or if you want a cash offer for your home in Richmond, CA we will purchase it!
Don't Worry, We Do All The Work!
A Worry-Free, Stress-Free Way To Sell Your House in Hayward
I want to help the community the way I know best, by buying Hayward homes with cash. It's simple; the cash will help you get out of any situation you might be facing. And I'll be here to help.